DEF LEPPARD'S JOE ELLIOTT DISCUSSES BEING A FAN OF MUSIC, THE BAND'S UPCOMING TOUR WITH KISS AND THE ROCK N'ROLL HALL OF FAME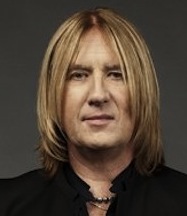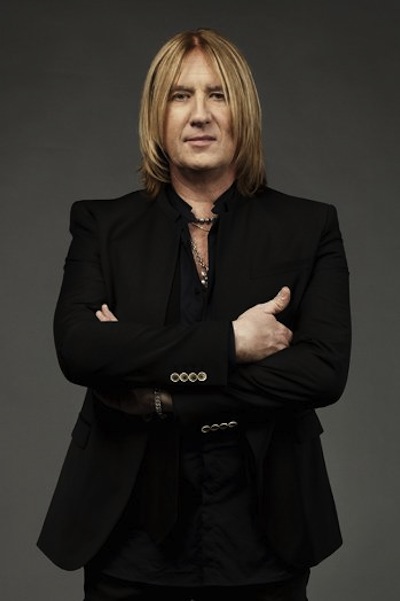 Steve Baltin of The Hollywood Reporter spoke with Def Leppard frontman Joe Elliott. Excerpts from the interview appear below.
HR:How much fun it is for you to get to live in both worlds, that of KISS on tour and the Mott covers project [The Down N' Outz], clearly a labor of love?
JE: I love that. The last time the Down N' Outz played, it was as the opening act for Paul Rodgers on an arena tour of Britain. But the juxtaposition is interesting. It's what keeps me ticking because doing Def Leppard for 35 years, you start looking for alternative ways to get out of the hamster wheel of album, tour, album, tour. So, for us, it was phenomenal fun to work with Taylor Swift, and then to do Viva! Hysteria Vegas. We just came out of a writing session in February with 12 new songs. We've got this tour, then we'll finish the album after that. We've never been this busy, really.
HR: Paul Rodgers is one of the great vocalists of all time. How did that inspire you on a nightly basis?
JE: I had the opportunity every night to sit on the side of the stage and listen to this great singer. There's no competition; I can't sing like Paul Rodgers. Never could. But it doesn't matter. To me, Joe Elliott and Paul Rodgers sharing a stage on the same night is no different than, say, Dylan sharing a stage with Otis Redding. They are both valid. One of 'em can't sing and the other is probably the best singer in the world. But as long as Dylan does his thing, people buy into that. It's not about being the best; it's about being an individual.
HR: Do you ever lose that sense of wonder that Robert Plant calls you to hang out?
JE: Not at all, you never lose that. I've known Ian Hunter since 1980, but when Mott just reformed again for the second time this past November, I went to every gig, standing with all the fans. There's no wonder in watching from the side of the stage; it comes from being down there and seeing the spectacle everybody else has paid to see. The enthusiasm to do it never goes. And the fan is always there. I met Bowie twice and I really have to double-check myself not to sound like a journalist because all I wanted to do was ask him a thousand questions and I can't, I just can't, so I went in a totally different direction. I held his attention much more. We discussed his early work, like Uncle Arthur, Sell Me a Coat, Silly Boy Blue… stuff like that. He was astonished that I even knew those songs.
HR: Will you be sticking to the hits on the KISS tour?
JE: We're not in competition with KISS, but we're not stupid. They're gonna play their top tunes; we'd be f**king stupid not to. We don't want to come across as, "Well, you just handed it to them by playing B-sides that came out in Holland and Japan to an American audience." I don't care what the critics think. If you can't handle the responsibility of a hit record, don't write one.
HR: Do you care about getting into the Rock and Roll Hall of Fame?
JE: I haven't thought about it until literally today because they're asking us our opinion on the KISS thing. I imagine the Rock And Roll Hall of Fame as this board table with six Mr. Roboto's sitting around, faceless tuxedo-wearing prats. This is the way I look at it as there are two hats. They pull out the one, "Def Leppard, Bon Jovi, Kiss, Motley Crue, fuck that, no." "Leonard Cohen, John Cougar Mellencamp, Bruce Springsteen, Tom Petty, REM, the Pixies, we want all them in because they're cool. We don't want Ratt, we don't want Poison." I was really happy when I saw Johnny Rotten tell them to go f— themselves. That's what I would do … even if I did get talked out of it by the other guys in the band. But I don't care. I don't gain anything from it. If you get an Oscar, your next film you're gonna be offered five times the money of your last film, and better scripts. When you get inducted into the Rock and Roll Hall of Fame, the next day you wake up in the same bed. You don't get tours thrown at you to open for Led Zeppelin or find out Paul McCartney wants to write a song with you. It's rubbish. There's no gain from it.
Read more at The Hollywood Reporter.