DEF LEPPARD'S BOOK "DEFINITELY: THE OFFICIAL STORY OF DEF LEPPARD," IS AVAILABLE FOR PURCHASE, NOW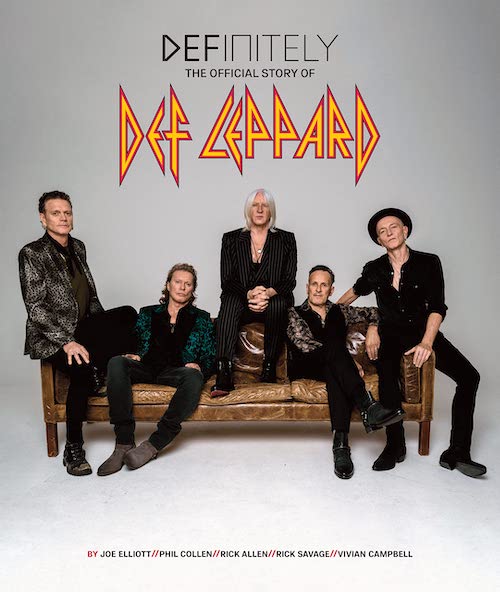 Chuck Arnold of the NY Post reports:
n the '80s, pop-metal powerhouse Def Leppard had not one but two albums that went diamond: 1983's Pyromania and 1987's Hysteria.
But even while cranking out hits such as Photograph, Pour Some Sugar on Me and Love Bites, the British band had a rocky road…
…In fact, while Def Leppard was crushing it on the charts, things came crashing down for them when drummer Rick Allen's left arm was severed in a car accident on Dec. 31st, 1984.
"It was unimaginable," writes lead singer Joe Elliott in the new book, Definitely: The Official Story of Def Leppard. For two or three hours, we assumed that Rick would have to leave the band. Because there's no such thing as a one-armed drummer…"
…"During that time, they put my arm back on and then took it off again because it had got infected and I didn't know a thing about it," Allen recalls in the book. "When I came around … I didn't want to be here anymore. I just wanted to disappear … I just felt completely defeated."
But it didn't take the percussionist long to find his groove again.
"Rick got a piece of foam for the bottom of his bed so he could push himself upright and tap at it with his feet and make beats and sounds with his one arm and two feet," writes Elliott. "Within a week or so of the accident, he was convinced he could continue."
And so he did — thanks to a specially designed drum kit with electronic foot pedals that allowed Allen to play what he used to do with his left arm.
That wasn't the only crisis that Def Leppard had to overcome. Pete Willis — one of the group's two original guitarists — was partying [very hard]…
…"One night during our tour of Europe in 1981, Pete had gone to bed bollocksed while the rest of us stayed down in the bar," Elliott recalls. "When we went to go up to our rooms, the carpet of the elevator was covered in white powder with these tiny footprints in them. Little high heel size seven boots. We looked at each other and went, 'That's Pete.' We got up to our floor and followed a trail of white powder to Pete's room."
When Willis' substance abuse — mainly alcoholism — worsened during the recording of Pyromania, he was booted from the band.
"We sat him down and said, 'Listen, mate, we're sorry, but we're going to have to fire you,'" writes Elliott. "He offered to go to rehab. And we just said, 'Sorry, Pete. It's too late. You're gone.'"
Another Def Leppard member, guitarist Steve Clark, also suffered from a drinking problem that sent him to rehab in 1989 and 1990.
"We'd gone through it with Rick and his accident and now we were going through it with Steve and his drinking," writes Elliott. "We decided to give him six months off from the band to try to get himself together."
But that hiatus ended in tragedy in 1991 with a lethal combo of alcohol and prescription drugs.
"Steve was on painkillers when he died, as he had fallen off a pavement and cracked a rib," recalls guitarist Phil Collen. "His girlfriend at the time wasn't helping because she was a former addict, and they were taking all sorts of s–t along with the drinking."
Still, Clark's spirit continues to live on in Def Leppard — and he was inducted posthumously into the Rock & Roll Hall of Fame with the band in 2019.
"Steve was such a beautiful person," writes Allen. "It's just so sad that he didn't make it through a difficult part of his life. Even though he's not here physically, he's definitely here in spirit and inspires us to be better."
Order Def Leppard's Definitely: The Official Story of Def Leppard, here.