DEF LEPPARD PLAN TO DO A "PYROMANIA' RESIDENCY IN LAS VEGAS NEXT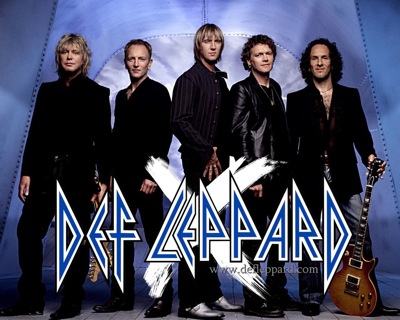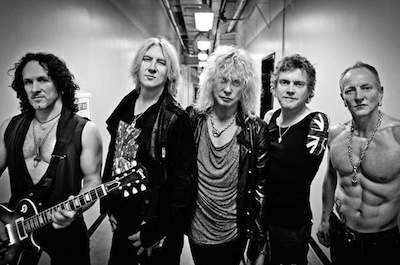 Phil Gallo of Billboard reports:
Def Leppard is planning a Viva Pyromania residency in Las Vegas in 2014 while also preparing to record an album of new material in Dublin.
"The Vegas thing was amazing," guitarist Phil Collen told Billboard, referencing their Viva Hysteria residency at the Joint at the Hard Rock Hotel and Casino. "We're also going to be doing Viva Pyromania at some point at the end of next year."
Pyromania, the 1983 release certified 10 times platinum in 2004, was the Sheffield, England hard rock band's breakthrough album.
Def Leppard gave eleven Hysteria concerts in Las Vegas in March and April before heading to Europe where they played Hysteria in its entirety at Hellfest in France and continued to have revelations about the album that contained Pour Some Sugar on Me,, Animal, Love Bites and Armageddon It.
"When we were rehearsing we realized how much went into that," Collen said on the red carpet after the finale of The Voice. "It's a rich and expensive sounding record. It doesn't sound like it now, but it was very experimental. Guitar parts that you only did once, you had to revisit. And you have to get into it."
Adds drummer Rick Allen, "So much time went into recording that record. It is so deep and complex. Every time we play it, there's a new way to do it."
The specter of their '80s heyday looms over Def Leppard any time they venture back into a studio, the last time being 2008 for Songs From the Sparkle Lounge. Collen and guitarist Vivian Campbell agree they have a unique balance to be mindful of whenever they do new material.
On one hand, they hope to record a fair amount of the record live as they did with 1996's Slang, an album under appreciated at the time of its release. It has only sold 367,000 copies, according to Soundscan.
"You paint yourself into a corner with a certain writing style when you have a huge album," Collen says. " Slang is very raw — us playing live — and everyone hated it. You learn from that. You don't want to cop out too much."
Campbell says the band can over think the situation at times. "I think sometimes you just got to let it happen. The other side of the equation is the band is successful for a certain sound. It's a brand like Coca-Cola and you've got to give the people what they expect. At the same time you have to move on."
From the perspective of Collen, Campbell and Clark, the emphasis is on big vocal beds, loads of guitar and lyrics that singer Joe Elliott can get behind. As they've aged, they have been able to explore tragedy on a personal level and get beyond anthems for strip clubs and frat houses.
"In a way, the real craft to me is being ambiguous," Campbell says. "Joe is the best person to keep the balance. I remember we were writing lyrics once on the X album. I can't remember what the word was, but I (gave him lyrics) Joe looked at it and said 'I'm not singing that word. That's not rock 'n' roll. Sting would sing that word.' Its gotta be a blue collar working class vernacular. (Otherwise) it's not rock n roll. You're Bob Dylan or Bono or something."
Def Leppard's appearance on The Voice was in part to promote the broadcast TV debut of Def Leppard: Viva! Hysteria on AXS TV on December 29th.
source: billboard.com