DEE SNIDER DISCUSSES HIS NEW SOLO ALBUM, "FOR THE LOVE OF METAL"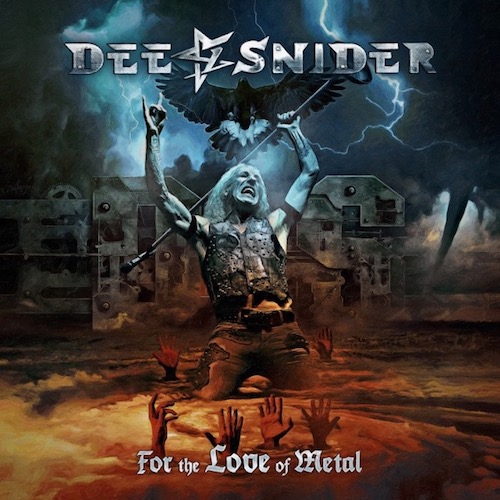 Twisted Sister frontman Dee Snider released his latest solo album, For The Love Of Metal, produced was by Hatebreed's Jamey Jasta, on July 27th.
Greg Prato of Bravewords spoke with Snider about his latest release, excerpts from interview appear below.
BraveWords: How did the idea come up to do For The Love Of Metal?
Dee Snider: This is all Jamey Jasta. Mentally, I was done. I was doing other projects – I just sold a children's animated show to Netflix that we are going into production on and a couple of movies I'm working on. I'm doing other things. Then on Jamey Jasta's podcast (The Jamey Jasta Show), he challenged me – literally – to do a contemporary metal record. I accepted the challenge, and we went from there.
BraveWords: How would you say the album compares to a Twisted Sister album?
Dee Snider: Look, Twisted Sister was a metal band at its core. And that gets overlooked sometimes, because of the success of a couple hit singles (We're Not Gonna Take It and I Wanna Rock). So, it comes from the heaviest side of Twisted Sister. So, I'm very comfortable there. But, it's a contemporary record musically, and I didn't write the songs – they were written by a lot of different contemporary metal artists. People from Disturbed, Lamb Of God, Killswitch Engage, Toxic Holocaust – all these bands were contributing. It's a contemporary sound, but it connects to the heaviest parts of Twisted Sister.
BraveWords: How much of a part did Long Island play in the success of Twisted Sister?
Dee Snider: Certainly, hugely. But also, you have to include the Tri-State area. And the fact was, we were continuing to expand outward – we were working our way into Pennsylvania. We were from Long Island – me and Mark "The Animal" Mendoza are – so certainly, that influences you. That suburban mentality. And also, our music – heavy metal always appealed to suburban kids. It's not been an urban sound, it's been a suburban music. But also, what was very important was the club scene, which is gone now – with an 18-year-old drinking age. It was a very powerful club scene – where we would play for anywhere in front of a thousand to four thousand people a night, five nights a week. For years, before we had a record deal. That allowed Twisted Sister to develop and hone its act and music.
Read more at Bravewords.
source: bravewords.com