DAVE MUSTAINE ON THE ABSENCE OF GUITARIST KIKO LOUREIRO, "I WISH [HIM] THE VERY BEST…AND I HOPE TO GET SOME GOOD NEWS FROM HIM SOON"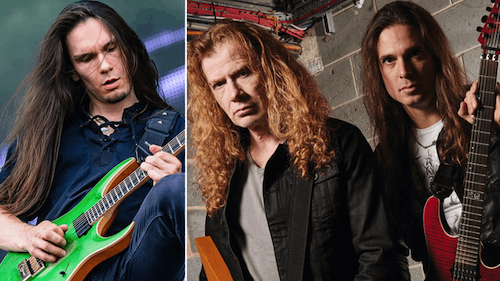 Greg Prato for ultimate-guitar.com spoke with Megadeth frontman Dave Mustaine, highlights from the interview appear below.
Which Megadeth songs are you most proud of from a guitar perspective?
Dave Mustaine: Well, Holy Wars is great, and some of the other songs like Tornado of Souls. Stuff off Countdown and Rust in Peace. It just kind of depends – some songs just have really great atmosphere and attitude towards it, and other songs can be played anywhere. Architecture of Aggression is a really aggressive guitar song. Of course the staples – Hangar 18. Most people don't really look at Symphony of Destruction as a big guitar song – it's not, but it's a huge song.
There's a variety of different eras where the guitar playing took different approaches. Most recently, a person that I looked up to as a guitar player, Robert Fripp, had listened to Holy Wars' and said something really nice about it. I was flattered because I've always thought Mr. Fripp was a very exceptionally talented guitar player. We're talking a different level than most guitar players can even hope to be. He listened to Holy Wars and thought that it was an interestingly structured song and I was very flattered."
Are there any plans to work again with Marty Friedman, and would you ever consider doing an album or tour with him added to the line-up?
Dave Mustaine: I don't know. It's a very interesting idea. Marty is a really talented person. I don't know for sure, but I think this is an area where I need to just talk with my partner and see how he feels about having another guitar player come up there and jam. Because sometimes guys get their feelings hurt, and I don't know that that's possible between Kiko [Loureiro] and Marty – because I think they both have a really high admiration of each other. But more importantly than what I would do with Marty right now is what I'm going to do with Kiko – because I love the guy and I want him to get whatever he's going through worked out.
And fortunately, he had mentioned the name of a guy, Teemu Mäntysaari. Teemu came out, and he was prepared. Like I said, I don't know when Kiko is coming back. He won't be back for this run [of tour dates]. He's at home, and he's soldiering on – for lack of a better term – and working through whatever it is he needs to get through. Out of respect for him, I didn't pry and ask what exactly it was – because it's really none of my business unless he tells me. But I think for any of the fans that are going to say, 'How's it going to sound? What's it going to be like?' Don't worry. I've picked good guitar players in the past, and I train them well. Teemu is very capable of playing these songs. In fact, we're adding new songs to the set. That is really exciting, too. I wish Kiko the very best – I love him, and I hope to get some good news from him soon.
Read more at ultimate-guitar.com.
Megadeth is scheduled to play tonight (October 6th), at the Aftershock Festival, in Sacramento, California.