BRUCE DICKINSON SAYS HE WANTS IRON MAIDEN'S "THE LEGACY OF THE BEAST TOUR" TO EXCEED THE "BOOK OF SOULS TOUR"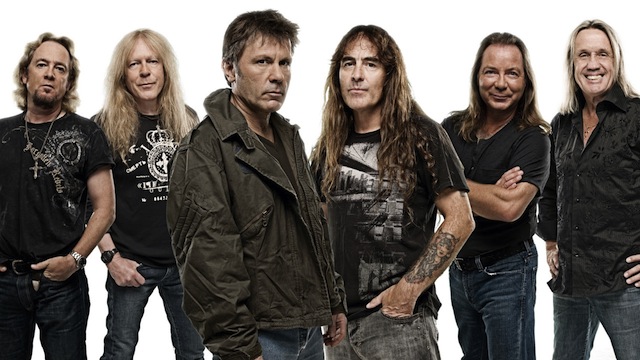 Iron Maiden frontman Bruce Dickinson says he wants to surprise fans on their upcoming The Legacy Of The Beast tour.
The run of UK and European shows will take place throughout May, June, July and August, with the tour named after the band's mobile game and comic book of the same name.
But while the live shows tie in with those products, Dickinson tells Kerrang, "I haven't paid too much attention to the game element, to be honest. I'm focused on what's gonna constitute an amazing setlist, and what's gonna constitute an amazing stage show.
I'm looking at the show as something that should certainly exceed what we did on the Book Of Souls tour, and I'm approaching things a slightly different way.
I'm approaching some of the songs a slightly different way. I'm conscious that over the years we've fallen into a little groove with some songs, so I want to try to shake that groove up a little bit."
Dickinson adds, "I want it to be really slick, but awesome. I want people to go, 'Wow! F–king hell, you've gotta see this show!' I want people to be surprised as well.
I want them to go home going, 'F–king hell, I can't believe they played that song!' That's the reaction I want.
On the Book Of Souls tour, there was quite a lot of chatting with the audience. I'm not planning that on this tour because we've got so much to do and there's so much going on. The show and the music is gonna carry the whole bloody thing."
He adds, "We're playing one or two things that people are gonna be really surprised by. There'll be social media madness after the first show."
Iron Maiden Legacy Of The Beast 2018 UK and European tour dates
May 26: Tallinn Saku Arena,Estonia
May 28: Helsinki Hartwall Arena, Finland
Jun 1: Stockholm Tele2 Arena, Sweden
Jun 3: Trondheim Rocks Dahls Arena, Norway
Jun 5: Copenhagen Royal Arena, Denmark
Jun 7: Solvesborg Sweden Rock Festival, Sweden
Jun 9: Munich Rockavaria, Königsplatz, Germany
Jun 10: Hannover Expo Plaza, Germany
Jun 13: Berlin Waldbuhne, Germany
Jun 16: Florence Firenze Rocks, Italy
Jun 17: Nickelsdorf Novarock Festival, Austria
Jun 20: Prague Letnany Airport, Czech Republic
Jun 22: Dessel Graspop, Belgium
Jun 24: Clisson Hellfest, France
Jun 26: Geneva Arena, Switzerland
Jun 28: Sopron Volt Festival, Hungary
Jun 30: Freiburg Messegelaende, Germany
Jul 1: Arnhem Gelredome, Netherlands
Jul 5: Paris AccorsHotel Arena, France
Jul 9: Milan San Siro Ippodromo, Italy
Jul 10: Zurich Hallenstadion, Switzerland
Jul 13: Lisbon Altice Arena, Portugal
Jul 14: Madrid Wanda Metropolitano Stadium, Spain
Jul 17: Trieste Piazza Della Unita D'Italia, Italy
Jul 20: Athens Rockwave Festival, Greece
Jul 22: Plovdiv Hills Of Rock, Bulgaria
Jul 24: Zagreb Arena, Croatia
Jul 27: Krakow Tauron Arena, Poland
Jul 31: Newcastle Radio Arena, UK
Aug 2: Belfast SSE Arena, UK
Aug 4: Aberdeen Exhibition & Conference Centre, UK
Aug 6: Manchester Arena, UK
Aug 7: Birmingham Genting Arena, UK
Aug 10: London O2 Arena, UK
additional source: Classic Rock via teamrock.com