"BLUE RIDGE ROCK FESTIVAL" WITH SLIPKNOT, FIVE FINGER DEATH PUNCH, STAIND, DANZIG & MORE, SEPTEMBER 7TH-10TH IN VIRGINA, SINGLE DAY PASSES ON SALE NOW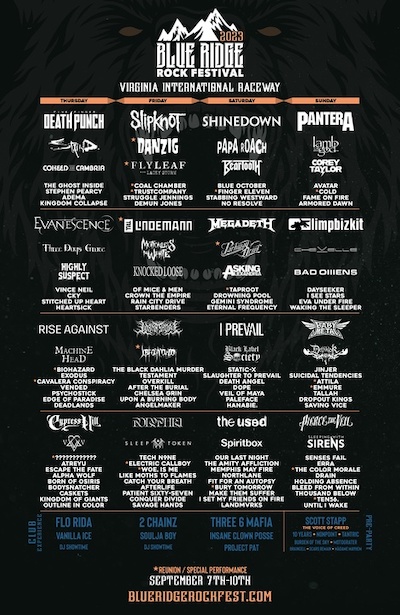 The full music lineup has been announced for Blue Ridge Rock Festival–America's Largest Rock & Camping Festival–which takes place September 7th-10th at VIRginia International Raceway in Alton, VA. Newly announced artists include: Slipknot, Five Finger Death Punch, Staind, Danzig (performing his self-titled album in full), I Prevail, Flo Rida, Lorna Shore, Knocked Loose, Polyphia, Insane Clown Posse, Vanilla Ice, Project Pat and more.
Blue Ridge Rock Festival features performances from more than 150 music artists including Slipknot, Pantera, Five Finger Death Punch, Shinedown, Evanescence, Limp Bizkit, Till Lindemann: The Voice of Rammstein (exclusive U.S. performance), Staind, Megadeth, Papa Roach, Danzig, Rise Against, Lamb of God, Three Days Grace, Pierce The Veil, Chevelle, Coheed & Cambria and many more.
The festival also hosts a one-of-a-kind Club Experience Thursday through Sunday from 11:00 PM to 2:00 AM, after the Main Festival with performances from some of the biggest and best '90s/2000s hip hop/rap legends, including Flo Rida, 2 Chainz, Three 6 Mafia, Soulja Boy, Vanilla Ice, Insane Clown Posse and Project Pat. The Club Experience is only available to three or four day festival campers and is an additional pass purchase.
The daily music lineup for Blue Ridge Rock Festival is as follows (subject to change):
Single day passes have just been released, and are on sale now at blueridgerockfest.com. 4-Day General Admission and VIP passes, as well as 3-Day VIP passes are now at level 5 pricing. 3-Day General Admission passes are at level 4 pricing. Fans save by purchasing early, and with the Blue Ridge Rock Festival 3-monthpayment plan, fans can purchase weekend or single day passes for only 25% down, with no additional fees.
The festival has seen record-breaking sales so far, with 4-Day Rockstar passes and Artist Meet & Greet Passes already SOLD OUT (wait list available). Premium tent camping, TV camping and glamping sites are also SOLD OUT, but a wait list is available. A limited number of standard 5-night tent camping sites are still available, but fans are advised to purchase soon before passes sell out. Blue Ridge Rock Festival has also partnered with Fuse to provide exclusive hotel packages.
Visit blueridgerockfest.com/festival-passes/ for full details and to purchase passes.
Independently-owned, Blue Ridge Rock Festival is the home of the "Fan Driven Experience," with fans voting on the lineup and festival experiences through surveys across social media. What started as a one-day event in 2017 expanded to a 4-day festival in 2022, featuring almost 200 bands and proudly hosting a community of over 150,000 at the VIRginia International Raceway in Alton, Virginia.
Watch the Blue Ridge Rock Festival 2022 after movie here.
Blue Ridge Rock Festival is located at VIRginia International Raceway, 1245 Pine Tree Road in Alton, VA, within a few hours of many major cities including Raleigh, Greensboro, Charlotte, Richmond, Virginia Beach and Washington, DC. In 2022, Blue Ridge Rock Festival entered into a multi-year agreement with Virginia International Raceway, which allows festival organizers to work on the site year-round.
Blue Ridge Rock Festival is sponsored by ZYN, Monster Energy, on! Nicotine Pouches, URW Credit Union, Fizzy – CBD Infused Soda, Mortus Viventi, and more.
For more information on Blue Ridge Rock Festival, visit: blueridgerockfest.com, facebook, twitter and instagram.