BLACK SABBATH STREAM "PARANOID" FROM "THE END"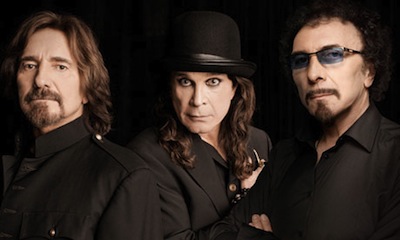 Black Sabbath have released a live video of their final performance of Paranoid, watch it below.
The footage was captured at the band's last-ever show at Birmingham's Genting Arena in February and was the last track they played together before they took their final bow.
It's been lifted from the DVD and Blu-ray of Sabbath's concert movie The End which will also be released on CD and vinyl on November 17th through Eagle Rock.
Speaking previously about the experience, Sabbath said, "To bring it all back home after all these years was pretty special. It was so hard to say goodbye to the fans who have been incredibly loyal to us through the years. We never dreamed in the early days that we'd be here 49 years later, doing our last show on our home turf."
The End features live scenes from the concert along with backstage footage and studio performances of tracks they didn't play on the night.
The End is available for pre-order here.
Black Sabbath The End DVD/Blu-ray:
1. Black Sabbath
2. Fairies Wear Boots
3. Under The Sun / Every Day Comes And Goes
4. After Forever
5. Into The Void
6. Snowblind
7. Band Intros
8. War Pigs
9. Behind The Wall Of Sleep
10. Bassically / N.I.B.
11. Hand Of Doom
12. Supernaut / Sabbath Bloody Sabbath / Megalomania
13. Rat Salad / Drum Solo
14. Iron Man
15. Dirty Women
16. Children Of The Grave
17. Paranoid
Extras: The Angelic Sessions
1. The Wizard
2. Wicked World
3. Sweet Leaf
4. Tomorrow's Dream
5. Changes
additional source: Classic Rock via teamrock.coma