BLACK COUNTRY COMMUNION TO RELEASE "BCCIV" ON SEPTEMBER 22ND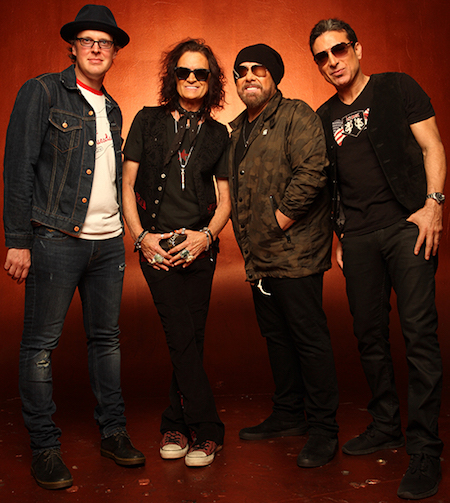 Black Country Communion the Anglo-American rock group comprising vocalist/bassist Glenn Hughes, drummer Jason Bonham, Derek Sherinian and blues-rock guitarist/vocalist Joe Bonamassa, will release their long awaited and highly anticipated fourth album, BCCIV, through Mascot Records on Friday, September 22nd. Pre-order the release at shop.jbonamassa.com.
Just like its three predecessors, "BCCIV was overseen by Kevin Shirley. Shirley, who originally had the idea of putting Hughes and Bonamassa in a band after seeing them jamming together onstage in Los Angeles back in November 2009, is the group's unofficial "fifth member."
Black Country Communion is an earth-shattering combination of American and British rock influences — a bona fide super group that conveys to the world a simple but important message: classic rock is alive and well, and in good hands in the 21st century. Their communion together forms something that is greater than the sum of its parts, creating a legacy being cemented within the halls of music history.
The initiative for the new album came from Joe Bonamassa, who contacted the band in 2016 to see if they would be up for going back into the studio to write and record a fourth album.
Says Joe, "I just felt the time was right for Black Country Communion to go back into the studio and write and record a new album. When I contacted Glenn, Derek and Jason, they immediately agreed to give it shot. The timing was right."
During October 2016, when news first broke about the band getting back together, things on Facebook, Instagram and Twitter, started blowing up and fan reaction was overwhelming. It was clear to see that BCC fans were hungry for another album. BCCIV is destined to become one of the biggest hard rock albums of 2017.
Black Country Communion's inception took place when frontman and bass guitarist Glenn Hughes and Joe Bonamassa fused their styles on stage in Los Angeles in November 2009 for an explosive performance at Guitar Center's King Of The Blues event. With the help and guidance of producer Kevin Shirley, they further added to their rock lineage by recruiting drummer Jason Bonham and keyboardist Derek Sherinian.
Taking their name from the industrial area in Britain, and the birthplace of both Hughes and Bonham, BLACK COUNTRY COMMUNION released their self-titled debut album in 2010, and with that, unleashed their brand of take-no-prisoners hard rock to a world thirsting for music with substance.
Following the release of another two studio albums, 2011's well-received "Black Country Communion 2" and 2012's equally impressive Afterglow, plus a smoldering live CD released in 2011, Live Over Europe, the band has firmly established themselves as one of hard rock's premier acts. The band took a hiatus in 2013 and focused on their successful solo careers.
Black Country Communion has cultivated a reputation not only as amazing songwriters, but as a powerful live act, is only exceeded by their dedication to their craft, and a willingness to challenge and motivate each other to make the best music they can.
Now, seven years on from its inception, Bonamassa feels the time is right to bring the original lineup back for album No. 4.
"We had around four months to write this album, and I think the results speak for themselves," comments Glenn Hughes. "All four of us wanted to make a record that stood up to the first three albums. However, the new album is more of a progression, as we wanted to be careful not to repeat the previous albums. A lot has happened since we last recorded the 'Aferglow' album in 2013, so, in many ways, the new album shows Black Country Communion with a much harder, riffier and bigger and bolder sound. If you're looking for a folk album, this ain't the one."
The band assembled to record BCCIV at Cave Studios in Los Angeles in December 2016. The album was mixed at Cave Studios in Sydney in March 2017. The songs on BCCIV will appeal to all fans of high quality hard rock, also those that admire singers of distinction. Hughes is not known as The Voice of Rock for nothing.
In terms of content, BCCIV expands upon the progression that took place between the first three albums. With an abundance of heavy riffs, undeniable hooks, melodic flair and infectious choruses, BCCIV is a spectacular album that gets bigger and bolder with repeated spins.
"I wanted the new album to physically shake your soul. It's a wake-up call." explains Hughes.
All songs on the new album were co-written by Glenn Hughes and Joe Bonamassa. Glenn wrote all the lyrics on the album except for the song "The Last Song For My Resting Place", which was written by Joe.
BCCIV track listing:
1. Collide
2. Over My Head
3. The Last Song For My Resting Place
4. Sway
5. The Cove
6. The Crow
7. Wanderlust
8. Love Remains
9. Awake
10. When The Morning Comes
11. With You I Go (bonus track on vinyl edition only)
The first single taken from the new album will be "Collide."
Black Country Communion has announced two exclusive concerts in Europe during January 2018 to support of BCCIV. The band will play Wolverhampton Civic Hall on Tuesday, January 2nd and London Hammersmith Apollo on Thursday, January 4th.