BILL AUCOIN – ON TOP OF THE WORLD ONE FINAL TIME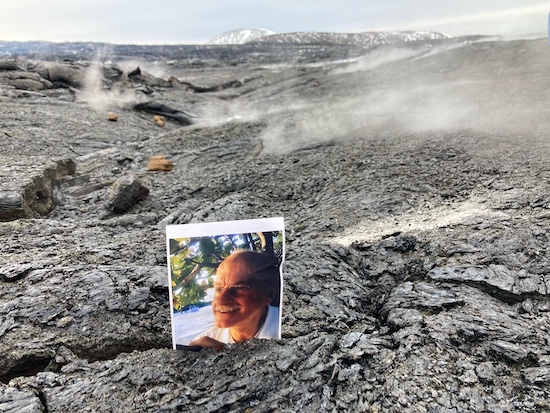 KISS manager Bill Aucoin's partner shared the following information with Eddie about scattering his ashes in Iceland. He writes:
"We always talked about places we wanted to go – Boston, the city where he studied communications at Northeastern University; revisit his old rental house in New City just north of New York, a place with just the right energy for a late twenty-something Bill Aucoin and his partner Sean Delaney to begin cooking up an early KISS stew; Barcelona (or, to be more precise, El Bulli, Ferran Adria's original gastronomical science lab where molecular gastronomy was born); and… Iceland. 
I'm not sure what the point of ignition was for the concept of traveling to Iceland. It may have started with me and my fascination with The Sugar Cubes (Bjork's pre-solo career alternative troop). But Bill, a lifetime million mile American Airlines Advantage member, had never been there despite a decade-plus worldwide globe-trot with the mighty KISS, and consequently, Billy Idol, so he liked the idea. Bill and I were science and travel buffs, often spending Sundays at home watching programs on astro-physics, string theory, and quantum mechanics. We in fact attended a symposium during the World Science Festival in New York on this very subject featuring Dr. Brian Greene and Alan Alda (yes, that Alan Alda). Sometimes one of these shows would cover our own planet, geothermal activity, volcanoes or glaciers, and our appetite for Iceland would be piqued. 
In the early 2000's, Bill and I paid a visit to his sister Betty and her son Mark Britton in Westerly, Rhode Island. This had been Betty's home since the 1970's where Bill and Sean would sometimes take refuge and devour homemade pot roast and apple pie when the couple were still "roughing it" during their early years after Bill's successful stint in TV but pre-profitable in music. During this visit, the subject of Iceland somehow came up and Betty explained that she had visited the island in recent years, describing what a beautifully unusual and captivating place it was. When we revealed that Bill and I had set our sights on the icy country, his sister, in her usual sternly but encouraging tone insisted that we make the pilgrimage. Bill had great respect for both of his older sisters, Betty and Janet, so when they spoke, Bill took note, he may not have always followed their advice, but he paid close attention. I think Betty's insight is what cemented the Icelandic concept for us, from then on it wasn't a topic of conversation between us so much as a mission we had to commit the time to. 
Bill and I would soon thereafter begin working together with a South Florida group, Nothing Rhymes With Orange, whom we traveled with frequently, often to the UK, New York, etc. Then Bill signed on metal monster group and Eurovision winners, Lordi. They toured as part of Ozzfest and that would take Bill around the U.S., as well as tours in Japan, New Zealand, etc. With all that traveling, we never found an opportunity to visit Iceland and Bill would soon succumb to complications stemming from prostate cancer in 2010. 
Bill was cremated and initially, half of Bill's ashes were scattered at LeTub Saloon on the intracoastal waterway in Hollywood, FL. LeTub is a burger joint and watering hole that Bill and I would frequent – sometimes up to five days a week. We'd host friends and family there, and often times music industry peers too. It was one of our favorite spots since it's partly outdoors and Bill could smoke his cigars while sipping a Sea Breeze. A plaque donated by Bill's close friend and once assistant, Suzanne, was installed at the table where we would normally hold court –  "You're Sitting in Great Company," it reads. 
Bill's sister, Betty (Janet tragically passed a year after Bill), spread some of Bill's ashes over the grave sites of Bill's parents in Ayer, Massachussets, where Bill was born and raised. I kept some of the ashes as I knew there would be at least one other location where Bill's remains would go, a place that will remain a secret for now. 
However, my love affair with Iceland didn't perish with the loss of Bill. It persisted and my current partner, Joe, and I had discussed visiting Iceland since shortly after we met several years ago. So, when it was announced in March of 2021 that a new volcano had been born in Fagradasfjall, and it was predicted that its lava would likely spill for months if not years to come, I heard the voice of Bill and his sister in my head telling me it was now or never. Now, turned out to be eight months after the volcano began to erupt, but this gave me time to better plan my trip and to hatch a plan to bring Bill with me. Bill was all about the spectacle, and to let him rest atop of an active volcano, to go up in flames in a blaze of natural pyrotechnic glory seemed, well… natural. 
I've never hiked a mountain, let alone a snow smothered active volcano, but professional excursion companies on the island made the idea plausible. I didn't read any restrictions about leaving photos of loved ones in the lava beds, and the idea of asking permission to spread ashes at a volcano of all places seemed a little absurd, so I never bothered to ask. This is how on Sunday, November 7th, 2021, I found myself, my partner Joe, Suzanne, and three friends, marching lock-stepped up a 2,000 foot mountain to the site where the new baby volcano had been spewing fresh, hot lava up until five weeks earlier. None of us are experienced mountain hikers, especially in these icy conditions and I'll confess that at times, we all had second thoughts. But a back pack with Bill's remains and bottle of Fireball for an after-tribute toast kept me from backing out. When we finally reached the site, we were welcomed by a field thousands of acres wide of smoldering, cooling lava. Although in my mind's eye I pictured a glowing light show of rolling fire, the cooler grounds gave me the opportunity to actually walk into the field of the setting lava stone and with precision, wedge a photograph of Bill wielding a fat Partagas cigar at our favorite LeTub table, within a crack in a plate of hardened black magma. The same crevasse also allowed for me to spread his ashes within it in order to protect them from being blown away by the freezing wind. 
Experts are saying the Fagradasfjall volcano will begin erupting once again in the near future and likely continue this on and off cycle for some time. Whenever it may take place – be it days, weeks, or months from today – the stage is now set for Bill to set off his next fiery display and put on one hell of a show atop the land of fire and ice we planned on visiting for so many years. I will keep some of his remaining ashes for the next adventure."