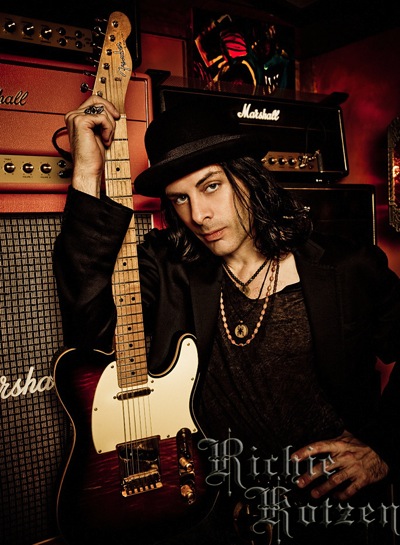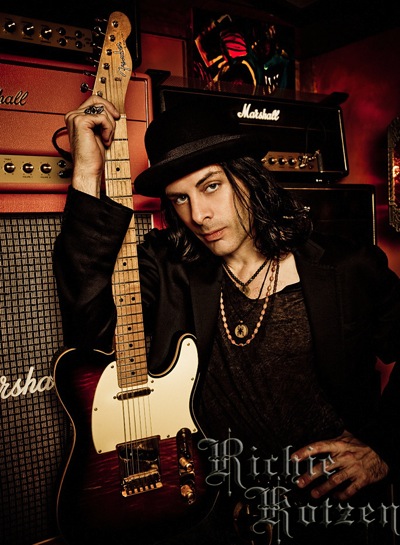 Justin Tedaldi of the Examiner spoke with guitarist/vocalist Richie Kotzen. Portions of the interview appear below.
Examiner: Last year you were supposed to play a solo show at the Iridium in New York, but it was cancelled because of a health problem. Is everything okay now?
Kotzen: Yeah. Since then I've done three tours, so I've been good on that, but you know, I'm still very cautious and aware of what happened there—it's kind of like a perfect storm. It was a real weird thing; I quit smoking, I stopped drinking, and I started rehearsing for that tour, which was a European tour, and then like you said, I planned on coming back to the East Coast….I started drinking coffee like a maniac, and somehow I didn't really know this until [later], but I developed an acid reflux issue from the coffee…
I went on the tour, and the agency—they had booked against my wishes, but they booked me anyway—at one point in the tour seven shows in a row, and that really did me in….I couldn't sing at all, and for the next show, I took my daughter to that show and she sang half the set for me because I just couldn't sing. And I went to the doctor and he told me that I hemorrhaged my vocal cord. And he said, "If you try to sing now, you will ruin your voice." So I cancelled the East Coast, and then about a month later I went back and he said, "Your vocal cord is fine, but you're showing signs of acid reflux." And so that's a whole other issue, but it was a real odd series of events. And I went back to smoking and I started drinking again, and I did another tour for a month in Europe, and my voice was better than it had been in years. At this point, I don't know what the hell to think [laughs].
Examiner: Are all the songs on the new Winery Dogs album co-writes between the band members?
Kotzen: Technically, no. But we decided to make this an equal band, so anytime a song comes into the band, we share equally in the song. But there's maybe four or five songs that I had written previously that I had brought in that became Winery Dogs songs. I was fine with that arrangement, because I haven't been in very many bands; I've always done my solo thing, but when I was in bands, I had the strength of being in Poison. The one thing I liked about them is that the record that I did with Poison [1993's Native Tongue], the majority of the music was written by me and Bret Michaels. However, we shared everything equally, and that really helped the morale of the band, especially out on the road.
In Mr. Big they didn't do that, and on the second record I made with Mr. Big [2001's Actual Size], that started to become an issue. It created tension, and from the beginning of this band, I knew—because I'm a singer and I'm the guitar player—that in the end I would end up carrying a lot of the weight…I'm going to hear melodies as a singer and I'm going to want to write the words and sing; it's only natural and normal. I knew from my experience with two different bands that work in opposite ways that this would truly be better for what we're doing. And then also in the end, there's a song on the record that Mike Portnoy wrote lyrics to and I sang on as well. Everybody contributed to it.
Examiner: Did any of the ideas Billy and Mike had from their aborted collaboration with John Sykes make the record?
Kotzen: No. It wouldn't have been possible for them to have some, because there never really was a collaboration with John from what I understand. What was explained to me was that they had the concept of recording together, and they actually did go to his studio, and what they ended up doing was playing on his songs that were already written, and they never really played together; he never really picked up a guitar and hashed out riffs. It would have been impossible for any of those ideas to have cross-pollinated.
Examiner: Your good friend Eddie Trunk, the host of That Metal Show, always rants that it's mind-blowing how you're virtually unknown in this country, at least as a household name musician. What do you think it is about the rest of the world that "gets" you?
Well, I don't know. I really appreciate all the accolades, but it's hard for me to comment on that, you know? Because the reality is—here's an interesting bit of trivia. Recently our press person, they wanted us to go into our Facebook and do analytics. I think I have maybe 70,000 likes on my page, or whatever it is. It's not a lot in terms of popular musicians, but it is what it is. So in the breakdown, the number one territory that had the most likes was Brazil. What do you think number two was?
Examiner: Japan?
Kotzen: The United States. And Brazil beat the United States by 300 likes. I don't know how to stop that. I think that what happens is, it relates to touring, which is consistent across the board for a lot of acts. In other words, the United States, I can play B.B. King's; I've played B.B. King's before, and we had a respectful number of people in there for someone of my level, but there's not a lot of places like that where you can draw numbers, and so if you tour in Europe, it's small, the distance between the countries, and they're still really pumped up to go to rock shows.
So if I can put 600 people in B.B. King's, that's cool, but also if I go to Rome I can put four to five hundred people in a room….I think what the reality is, is that I'm not mainstream in the United States but I'm not mainstream anywhere. It's just that when I tour, I tend to tour in a foreign territory because the people there are more inclined to go to the show; there's more shows for me to do. Now, Brazil is a different story and I don't know why. My girlfriend lives in São Paulo when she's not here, and she's always calling and saying, "Oh, they're playing your sing on the radio!" [Brazil], for some reason, has become my largest market. But I was surprised to see on the analytics that the United States was number two. And Japan was way down the list—Italy was number three. So you never really know who's listening, but it comes down to where the likes are at; where do you get all this play? So that's how you book a show.
Examiner: What was it like working with Gene Simmons on his 2004 solo record?
Kotzen: That was f—in' great. I love Gene. He's just one of the coolest people I think I've ever met. He's funny, insightful, and just a great, great person. I got to meet his kids, who were great, and I've been to his house a couple of times. I just jammed with him recently [in L.A.] for [the] Wounded Warrior [Project]; he did a thing and I played a couple of songs—I didn't know what the f— I was playing, so I hope I didn't piss anyone off—which was very fun. He's a great person; I love Gene.
Examiner: Did he pick you for that album?
Kozten: I don't remember how that happened. Somehow I had that studio, he was looking for a studio, and somebody knew him. I had met him in the past, but I don't remember how he came to my studio. But he came there with a DA-88 cassette tape, and nobody uses that format anymore, and he wanted to listen to stuff. I was panicked…so I had to go rent one for him, and I got that, and we hit it off, you know. We worked in my studio and then he asked me to do some stuff for him and play on some things, and it was fun. He's a great guy.
Read more at the Examiner.
source: examiner.com