AUTHOR OF K.K. DOWNING'S BOOK REVEALS NEW INFORMATION ABOUT FORMER JUDAS PRIEST DRUMMER DAVE HOLLAND'S PAST INDISCRETIONS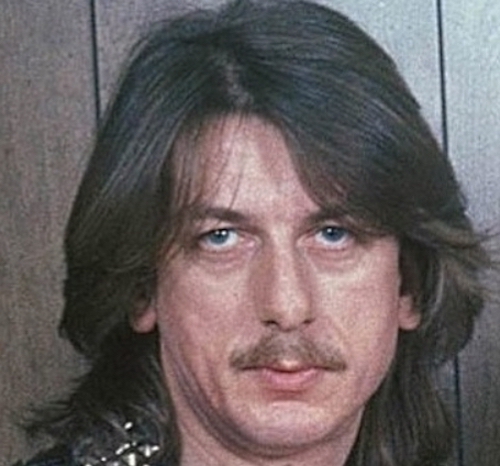 Former Judas Priest guitarist K.K. Downing's book collaborator claims to have obtained new information about former drummer Dave Holland which paints the band's disgraced drummer in a far different light than the public had previously known.
The newly revealed purported details of Holland's final years come 13 months after he died in Lugo, Spain, where the 69-year-old had reportedly been residing after spending several years in a British jail for attempting to rape a teenage boy. The drummer was sentenced in January 2004 of trying to assault the 17-year-old in his cottage in Northamptonshire, England, while giving him drumming lessons. The abuse was revealed in a letter written by the teenager to his parents. Holland always denied any involvement in the attempted rape of the special-needs student and was at one point said to be planning to write a tell-all biography of his life and career.
Scottish author and journalist Mark Eglinton, who co-wrote Downing's 2018 autobiography, Heavy Duty: Days And Nights In Judas Priest, says that he was given the new information by a purported friend of Holland's who wanted to inform people of "a very sad injustice" which had been perpetrated upon someone that she claims was "a true gentleman."
The following piece was provided to Blabbermouth.net by Eglinton, who requested that it be published in its entirety.
"In the aftermath of co-writing K.K Downing's recent book Heavy Duty: Days And Nights In Judas Priest, I, being more accessible than he is, was inevitably contacted by a number of people. Some wanted interviews, others wanted to pass on personal messages or to have books or other items signed. One woman's contact was of a different nature. She had been a friend of the late, former Judas Priest drummer Dave Holland, and she had information to share regarding Dave, and the court case in which he was convicted in 2004.
It is very important to say that I personally had no opinion on Dave or Dave's case. He was convicted; that is irrefutable fact. K.K. and I discussed him only in terms of his contribution to Judas Priest from a musical perspective, with only occasional references to his personality as far as it related to band matters (all of them positive) during his ten-year-long tenure in Judas Priest. Just like anyone else reading what follows, obviously I was neither present at the events which led to Dave's arrest, nor was I present at the court case at which he was convicted. Furthermore, even after having been given the following information, I'm still not in a personal position to be able to offer an opinion on these matters. The fact remains that Dave Holland was convicted of an indefensible crime.
BUT… in the spirit of openness and a willingness to share information relayed to me with acquaintances of Dave, the many fans of Judas Priest. (and other bands Dave Holland was associated with) it would only seemed right to make people aware of the details of the information.
This lady, who has now been spoken to at great length, has stated the following, in no particular order:
* Dave was the victim of a story that the lady said was made up by a 17-year-old lad and his older brother. They sometimes frequented Dave's house together and on occasion this lady's son would do the same — to do gardening duties at weekends and summer holidays and occasionally receive drum lessons from Dave.
* The accusing 17-year-old was wrongly reported in places to have been a cripple and in a wheelchair — when actually he was a relatively healthy lad and apparently strong enough to do gardening duties and play drums, with his only disability being that he was something of a slow learner.
* Allegedly there was an attempt made by Dave to rape this lad. But there was no physical evidence in the trial, only verbal testimony.
* There was another 22-year-old male allegedly involved but the police apparently offered him a deal of both freedom and not to be on record as a criminal — if he pleaded guilty. This is what he did. This, it could be argued, was detrimental to Dave's plea of innocence.
From what the lady also said, the judge presiding over the case was at the very least biased to put it mildly — and he threw out valuable evidence that would have been in Dave's favor.
For example, the prosecution said that the lady's son was also present on the day that the offense was supposed to have taken place. This, as stated by the lady, wasn't the case as he was at a wedding with her — evidential proof of which was submitted in court. Yet, for some reason, the judge did not allow this evidence to be admissible.
Also, the accuser's brother, who seemingly had helped to concoct the story, was on the run from the police at the time of the trial. So, his statement, according to the judge, couldn't be read out in court either. Dave seemingly showed the lady the brother's statement when he received a copy upon his release from prison. She said that the brother admits in the statement that the story about Dave was made up.
On top of everything else, Dave's appointed defence council that was familiar with the defence details didn't turn up on the day, having cried off with a cold. So, Dave had to be represented by a last minute stand-in defence lawyer who was apparently hopeless.
Dave Holland served his years in prison and when he eventually got out, one of his main intentions was to look after his dying mother — feeding and toileting her daily, according to the lady. The lady also said that Dave was brilliant with her son and her baby granddaughters and that he was a true gentleman.
Not long afterwards, Dave's mother passed away, and so, after the funeral, Dave decided to try and start a new life for himself in Spain. After only days in Spain, Dave went to the doctor complaining of stomach pains and was diagnosed with cancer of the liver and the lungs. In less than two weeks, he passed away.
All of Dave's family has now gone, as neither he nor his disabled sister, a sufferer of multiple sclerosis, ever married. This lady has not long lost her own husband and it is apparent that she is still very much disturbed by what happened to Dave also. It seems that she has nothing whatsoever to gain by giving her account after so many years other than to try to bring some clarity to this case by at last allowing fans — and people who knew Dave — to be aware of what she can only describe as a very sad injustice.