ATLANTIC RECORDS FIRST FEMALE A&R EXECUTIVE DETAILS THE 80'S MUSIC SCENE IN NEW MEMOIR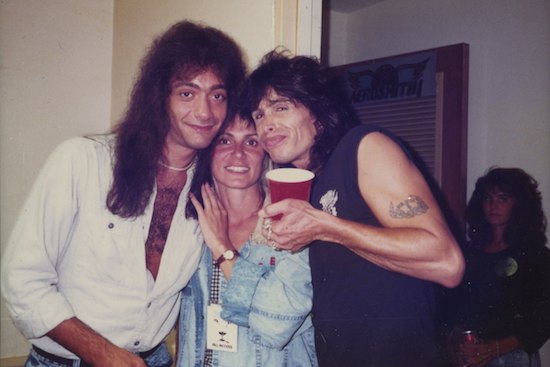 Michael Kaplan of the New York Post reports:
Dorothy Carvello remembers the first time she was sexually battered by music-industry legend Ahmet Ertegun, the then-chairman and CEO of Atlantic Records, the company he founded in 1947.
The man who discovered Ray Charles, palled around with Mick Jagger and signed an emerging Led Zeppelin had accompanied Carvello, who was 25, to a converted roller rink in Allentown, Pa., in 1988. The two were seeing the heavy-metal band Skid Row, hoping they would sign the group to a record deal.
Carvello dreamed that the inking would propel her from an entry-level job as Ertegun's secretary to a coveted spot in the Arts & Repertoire department, where she'd be scouting and securing talent.
Ertegun, in his mid-60s at the time, was in a clamor to score Skid Row because his rival David Geffen had his eyes on them, too. Ertegun had a nickname for the mogul: "Jew motherf–ker."
The piggish Ertegun — who passed away in 2006 at age 83 following a fall on his head backstage at a Rolling Stones concert — was blasted on cocaine and vodka. As Skid Row played, he jammed his hand between his secretary's legs. "I was stunned," Carvello, now 56, told The Post from her ­Upper East Side apartment.
This sordid tale is featured in the new book Anything for a Hit (Chicago Review Press), a memoir about her 23 years in the sex-and-drugs-filled music biz. "He was like an octopus with hands all over my body. I started hitting him."
After that initial incident, Carvello was promoted and became Atlantic Records' first female A&R executive. In her time there, she dined with Jon Bon Jovi and hung out with Steven Tyler. When Ertegun discovered that she had slept with Michael Hutchence, lead singer of INXS, the randy exec heaped praise on her.
Even for a wild industry, Atlantic approximated the "Animal House" of record labels. Ertegun — who, Carvello said, used drugs on an almost daily basis — set the partying pace.
Another time, when she was dispatched to a Manhattan recording studio to get a document signed by Ertegun, she walked in on him with his pants down, being serviced by a woman. "He looked at me, I looked at him and I walked over to get the signature," said Carvello, who grew up in Brooklyn. "At that moment, I knew I ­either had to go along with it or quit. I decided to go along with it."
After Ertegun's nights out on the town, Polaroids sometimes came in, showing the bald and spectacled icon participating in sex acts. The senders meant to use the scandalous snaps to blackmail the CEO. "We would bring the pictures to the vice chairman's office, where there was a safe full of cash; the women were paid off from there and [made to sign] NDAs [nondisclosure agreements]," said Carvello. "They'd get thousands of dollars."
Sometimes the injuries Ertegun inflicted were more than just emotional. Enraged at a rotten live performance by the just-signed Skid Row, he grabbed Carvello's arm and slammed it so hard on a nightclub table that she sustained a hairline fracture. "He never apologized and didn't even ask if I had enough money for the doctor's bill," Carvello said.
Carvello lasted four years at ­Atlantic — she was fired in the wake of a tiff that originated when she rebuffed a superior who slapped his thighs and insisted that she sit on his lap — and went through a succession of jobs at labels such as RCA, Giant and Columbia. She held her last A&R gig in 2010, and now works as a publicist.
Despite Ertegun's boorishness, Carvello and her former boss stayed in touch until his death. She visited him a few months before he passed. "He had two fake hips, was blind in one eye and nevertheless said, 'Show me your p—y for old time's sake.'"
Before Carvello left, Ertegun had a last request. "He asked me to tuck him into bed. I said, 'No way.' Ahmet was still an animal. If you got too close, he would grab you."
The above photo features Dorothy Carvello (center) with White Lion guitarist, Vito Bratta (left), and Aerosmith frontman, Steven Tyler (right) on tour in Honolulu, Hawaii, in 1988.
source: nypost.com