AS IT CELEBRATES TURNING 30, ALICE IN CHAINS' JERRY CANTRELL AND SEAN KINNEY REFLECT ON THEIR SEMINAL ALBUM "DIRT"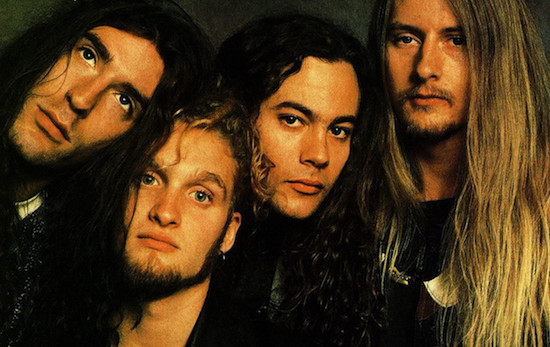 Ron Hart of Billboard reports:
When talking about Alice in Chains' sophomore LP Dirt, which turns 30, it's easy to get mired in the darkness and addiction punctuating its original release on Sept. 29th, 1992. But focusing on the negative does a grave disservice to a fierce, creative recording from a band that was key in putting Seattle on the musical map in the early '90s. Especially when you consider how meaningful Dirt is to the original members of the band, guitarist Jerry Cantrell and drummer Sean Kinney, in the context of the band's 30-plus-year history.
"Two of us aren't here," Kinney states, referencing frontman Layne Staley, who passed away in 2002, and bassist Mike Starr, who died in 2011. "These 30-year things are really nice, but it's bittersweet. That's just our reality. It's everybody's reality. Everybody's gonna lose people they love in life and people will miss you. It's how things are, going back and trying to remember when we were young and everything was vibrant and strange."
"It's 30 years (later) and we are still talking about a record that four guys from the Northwest made back in 1992, and that's pretty cool," says Cantrell. "As an artist, that's what the ultimate goal is—to create something that lasts and gets handed down through generations of listeners. It's not for everybody, but it has a way of finding its people…"
…"We work in a really interesting way, especially lyrically and melodically," he says of [the] creative kinship. "The way that Layne and I worked together, we had a pretty good partnership. We didn't really talk about things too much, but we just filled the other half of what the other guy didn't have. Like if I was stuck somewhere or I didn't have an idea, Layne always had it, and if he was stuck somewhere, I always had it. It was a really cool thing we had. On [Rain When I Die], I had a really strong vocal idea and a cadence for the song, and so did he. He showed me his idea, and I showed him mine. And the weird part of it was where I had written lyrics and places to sing were the spaces and the breaths in the song for him. So I'm like, 'Dude check it out. My line fits your gap and your line fits my gap. Let's put 'em together.' We just combined them lyrically, and it was weird how well it worked. We totally did not communicate what we were writing about, but it worked together. That's one of my favorite songs on the record…"
…"Layne came into his own as a guitar player, and he wrote a couple of fantastic tunes on the guitar with Hate to Feel and Angry Chair," adds Cantrell. "I love those tunes, and I also love the fact that he got the bug to pick up the guitar. I remember he showed us those tunes and he was thinking about doing them for a record on his own. He was a big fan of Nine Inch Nails and Ministry and the whole industrial movement, and those were songs he pocketed for that. Then he played them for us and we were all like, 'F–k, those are cool. We should do those.' And he reluctantly agreed. And we cut them, and they turned out to be two amazing songs that very much fit the record, for sure…"
…No doubt the most famous cut off Dirt is Rooster, which Cantrell wrote for his Vietnam veteran father and displays the guitarist's own growth as a songwriter…
…"My folks got divorced when I was pretty young, and I was the oldest of three," Cantrell tells Billboard about the roots of Rooster, which peaked at number seven on the Mainstream Rock Airplay chart in early 1993. "I didn't spend a whole lot of time with my pop during the teen years. I grew up with my mother at my grandmother's house, so we weren't really that tight and he lived in another state, so I only saw him once in awhile. And the song was a way for me to come to terms with that and maybe not judge him. I was trying to put myself in his shoes and maybe not judge him so harshly and try to understand his experience, which I think had a huge effect on his life and our family in retrospect…."
"…The musical fingerprint on Dirt is pretty bold, and you can tell from the first note that the record has a real ferocity to it," adds Cantrell. "It's really economical, there's no fat at all on it. It's all muscle and bones and teeth. There's a vibe to that, and I'm just glad we got to capture it and the album still matters to people."
Read more at Billboard.