ANTHRAX TO APPEAR ON "LATE NIGHT WITH SETH MEYERS," ON AUGUST 24TH, BAND WILL ALSO BE ON FACEBOOK AT 2PM EST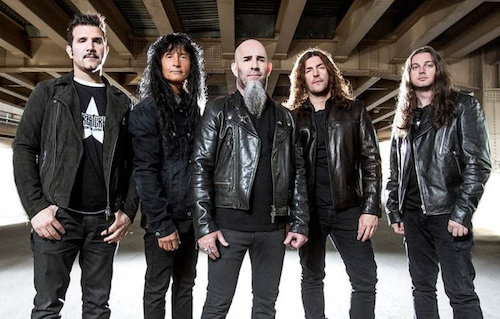 Could there be any other time or situation when you would find legendary Oscar-winning-actor Robert DeNiro and thrash/metal pioneers Anthrax on the same bill? Likely not, so don't miss this once-in-a-lifetime opportunity – tune into Late Night with Seth Meyers tomorrow, Wednesday, August 24th. Late Night with Seth Meyers airs on NBC at 12:35AM/11:35PMc.
But before you do that, Anthrax will be on Facebook Live tomorrow at 2:00PM ET from backstage at the "Late Night" studios. Got a question you've always wanted to ask the band? Then get it ready and log on to facebook.com/anthrax.
In other Anthrax news, the band will be playing Brooklyn's Saint Vitus Bar on Friday, September 16th to benefit Gilda's Club NYC. The event is sold is out.