ANTHRAX DRUMMER CHARLIE BENANTE ADMITS THE BAND GOT KICKED OFF AN OZZY TOUR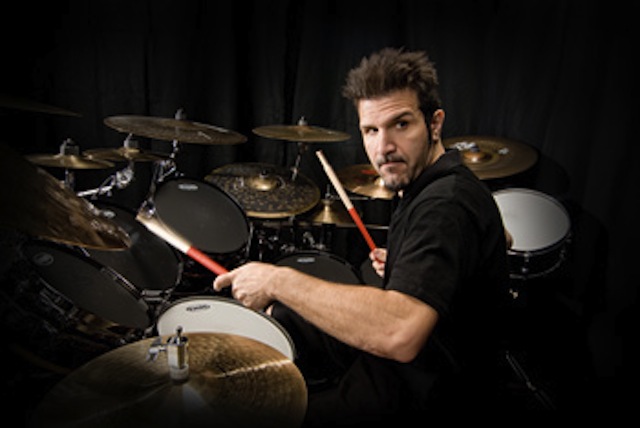 Ruben Mosqueda of KNAC.com some with Anthrax drummer Charlie Benante about the band celebrating the 30th anniversary of their State Of Euphoria album, excerpts from the interview appear below.
KNAC.com: What was the inspiration behind the State of Euphoria artwork?
Benante: It was meant to be a continuation of the character that was featured on the Spreading the Disease album cover. That was a kid that being dragged into a room and he's being tested by all of these machines and instruments, for what is believed to be Anthrax.
I wanted to run with that theme and keep his face and his character alive on this album cover. I wanted it to depict this whirlwind or vortex that we [Anthrax] had just experienced in the previous 2-3 years of being a band. It was really a "state of euphoria" for us, because we were on this ride and it felt like a vortex, believe me—it's like we were just sucked right in.
KNAC.com: There's various different images of the character in the downward into that vortex. I remember I picked up the cassette and friends and I would go back and forth as to whether or not that was [singer] Joey [Belladonna] on the album. Some looked like him, others not so much.
Benante: [Laughs] The artist took some liberties. [laughs] I know what you mean, it does look like Joey at times. Funny thing, back then, I wanted the vinyl to be the red swirl so when you put it on, it would give you this image of the thing spinning as the album played. It didn't happen on the original release, but on the reissue we managed to do it. So now, when you pick up the vinyl, you can put it on and when it's spinning it looks like a vortex. [laughs] So…30 years later the vision was made reality. [laughs]
KNAC.com: I love the packaging of the album. There's some killer liners with pics, shots of memorabilia and there's pages of fans quotes. Where those solicited? How many of those did you have to sift through?
Benante: About 6-8 months before we were ready to go to print, I went on social media and I asked fans if they could tell me, tell us, what State of Euphoria meant to them. I didn't care if it was something they hated about it or something that they loved, I was open to hearing it all. Was it something that got you through a hard time? Was it something that helped get you through high school? Was it something that changed your world? Just tell me about it.
Before I knew it I was slammed with all of these comments. [laughs] So, then I started reading all of them, there were some that were long, some that were short and sweet, they were fun to read. I just took a bunch and ran with it, you know what I mean?
KNAC.com: Who's idea was it to shift the image of the band from denim and leather to the t-shirts and the shorts? That set you guys apart from the rest of the thrash acts.
Benante:: You know what? That whole image evolved—naturally. The odd thing about it was that we're a band from the East Coast that didn't have any beaches or skate parks. [laughs] So, all these other thrash bands came from the West Coast, but we looked like we were from the West Coast. [laughs] [guitarist] Scott [Ian] was into skateboarding, I was a complete novice at it. I enjoyed it, but there's no way that I'd be doing some of this stuff that some of these guys were doing on a board. [laughs] It was just fun and goofy, you know what I mean? It started becoming the look of the band and before we knew it, people were coming to shows dressed like us! [laughs] We were some of the first bands to sell our own baseball hats with stuff on the brim. We were one of the first bands to sell our own shorts. It just grew into something that was beyond our control.
KNAC.com: You guys toured with Ozzy Osbourne in support of State of Euphoria. Do you have any cool stories from that tour?
Benante: Yeah, we got kicked off of it. [laughs] We never got a reason for why that happened to this day. We were going over really well, we thought we'd continue doing more shows, then we were off of it. [laughs]
Read more at KNAC.com.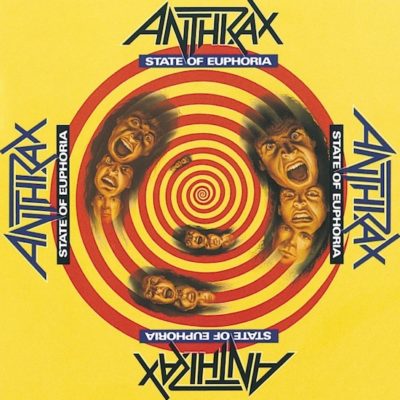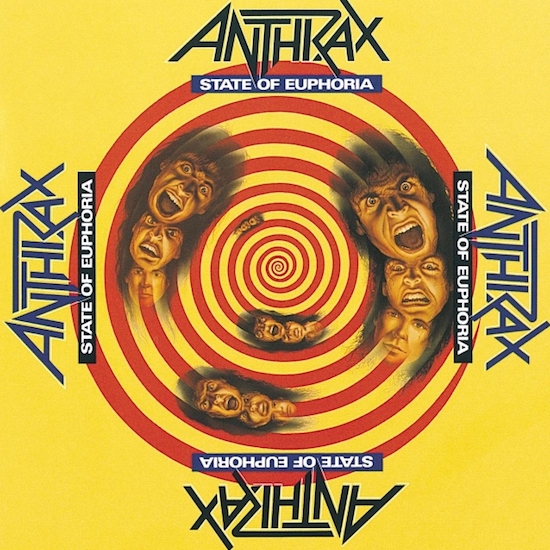 source: knac.com