ANGEL'S PUNKY MEADOWS AND FRANK DIMINO ANNOUNCE FIRST EVER UK TOUR PLUS ADDITIONAL US DATES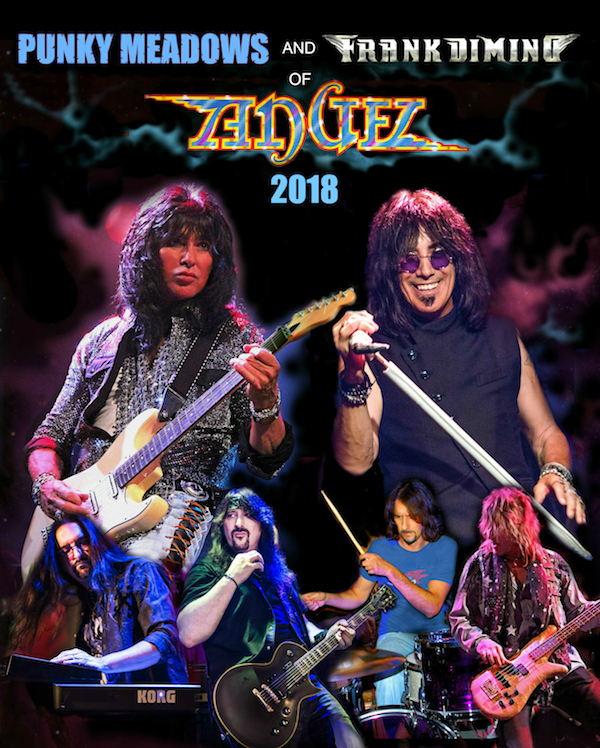 After kicking off a series of packed shows in April for the first time together in over 35 years with stops in New York, New Jersey, and Philadelphia. Punky Meadows and Frank DiMino will hit the road again starting in Las Vegas on June 15th with stops scheduled in Los Angeles, Chicago, Detroit, St. Louis, Nashville, and first time ever performances in the UK including stops in London, Edinburgh, Newcastle and Nottingham.
"I'm real excited to be playing the UK for the first time ever. Can't wait to blow the roof off these places with all our fans who have never had the chance to see us, says Punky Meadows.
"It has been such a great run so far and a real blast playing with my brother Punky again.Can't wait to play more US dates and really looking forward to hitting the UK," states Frank Dimino.
The band which is rounded out by Danny Farrow (Rhythm Guitar), Charlie Calv (Keyboards), Steve O'Jane (Bass) and Billy Orrico (Drums) will be delivering a full Angel set with select solo material from Frank DiMino's 2015 solo effort "Old Habits Die Hard" and Punky Meadows 2016 release "Fallen Angel" which entered the Billboard Heatseakers chart at #6.
Punky Meadows/Frank DiMino tour dates:
June 15th, 2018 – Las Vegas, NV – Vamp'd
June 16th, 2018 – West Hollywood, CA – The Whisky
July 6th, 2018 – Westland, MI – The Token Lounge
July 7th, 2018 – Chicago, IL – Reggies Rock Club
July 8th, 2018 – Granite City, IL – Eddie's Lounge
August 24th, 2018 – Nashville, TN – Mercy Lounge
September 21st, 2018 – Wantagh, NY – Mulcahy's Concert Hall
September 22nd, 2018 – T.B.A.
September 23rd, 2018 – Sellersville, PA – Sellersville Theater
October 12th, 2018 – Stoke-on-Trent, UK – Eleven
October 13th, 2018 – London, UK – Camden Underworld
October 14th, 2018 – Bilston, UK – The Robin 2
October 15th, 2018 – Edinburgh, UK – Bannermans Bar
October 17th, 2018 – Newcastle, UK – Trillians
October 18th, 2018 – Nottingham, UK – Rock City
October 28th, 2018 -Creve Couer, IL – Rock N Skull
For tickets and meet and greets, please visit punkymeadowsofficial.com or a href="http://frankdimino.com" target="_blank">frankdimino.com.