ALL STAR TRIBUTE TO KISS GUITARIST ACE FREHLEY SCHEDULED FOR NOVEMBER 12TH IN LOS ANGELES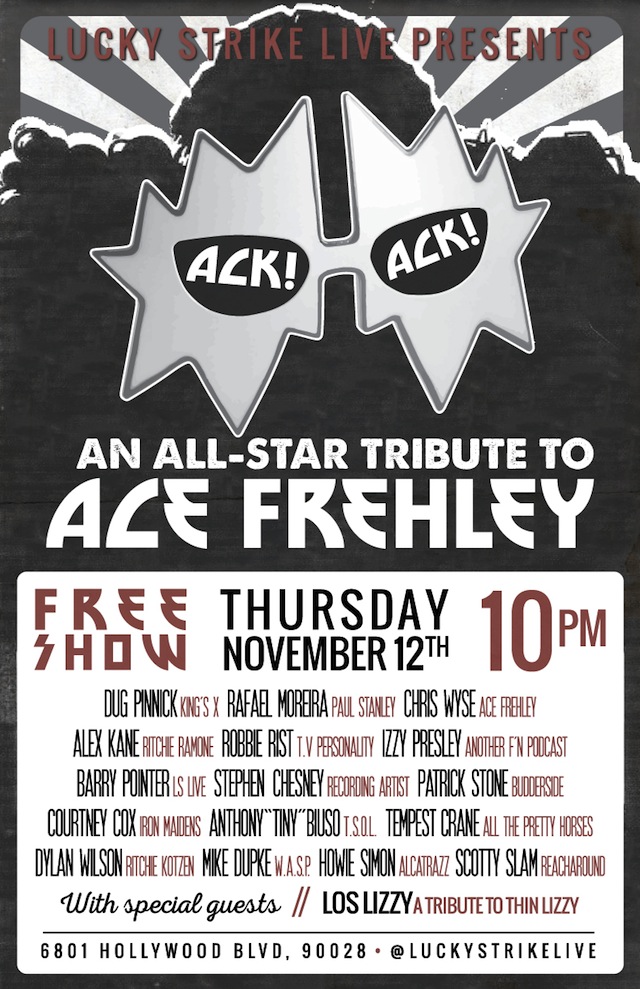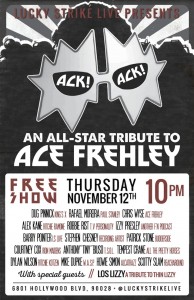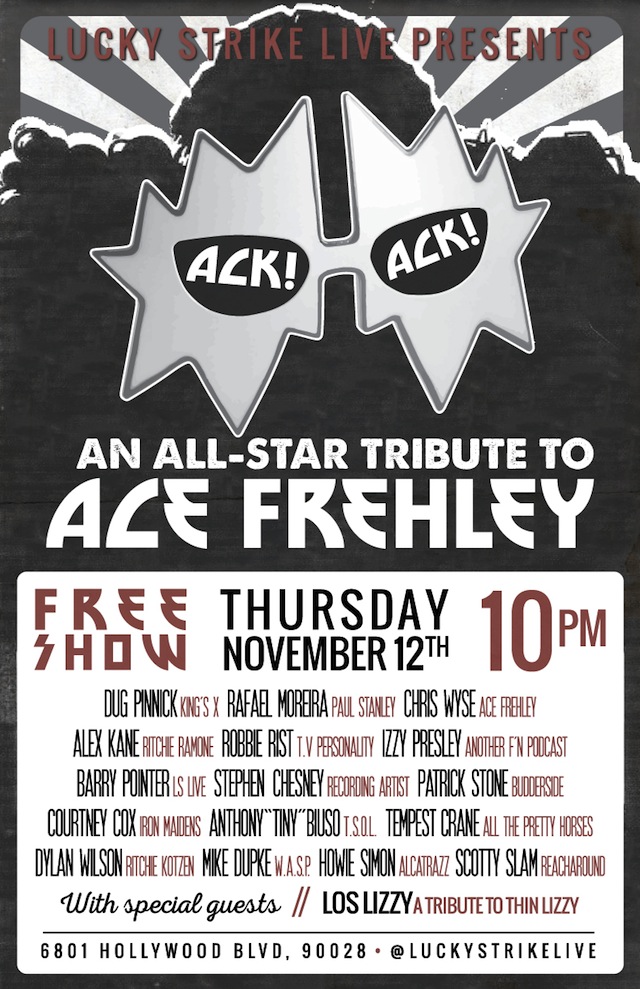 In 2013, Izzy Presley started ACK! A Tribute To Ace Frehley in Minneapolis along with Pentagram drummer Minnesota Pete Campbell, and since Izzy has relocated to Los Angeles he has taken his show with him.
He is debuting the band in Hollywood on Thursday November 12th with an all star cast. The band itself features Mike Dupke (Formerly of W.A.S.P.), Barry Pointer from Lucky Strike Live, and Dylan Wilson from Richie Kotzen's band. Johnny Martin of Adler and Chad Stewart from Faster Pussycat were unavailable to do the show due to scheduling reasons but will be playing with the band in the future.
The show will also feature an all star jam that will not only feature the aforementioned performers, but also Chris Wyse of Ace Frehley's band, Rafael Moreira from Paul Stanley's Solo Band, dUg Pinnick of King's X, Alex Kane of the legendary Life Sex & Death, former Faster Pussycat bassist Eric Stacey, Tempest Crane from the Minneapolis icons All The Pretty Horses, Courtney Cox from Femme Fatale and The Iron Maidens, Robbie Rist – yes Cousin Oliver of the Brady Bunch – Emily Dickinson, Tiny Biuso, Howie Simon, Stephen Chesney, Patrick Stone, Zach Throne, Jim Wilson, and more with some other surprises in store.
The show will be opened by Los Angeles based Los Lizzy, a tribute to Thin Lizzy and starts at 10pm. Best part….NO COVER!