ALICE COOPER DISCUSSES HIS MEMIOR, WHO SHOULD PLAY HIM IF A MOVIE WERE TO BE MADE AND BEING THE "ONLY ROCK N' ROLLER IN THE FRIARS CLUB"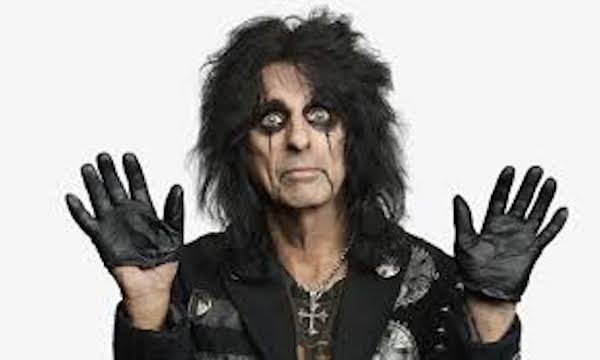 Greg Prato of Heavy Consequence spoke with Alice Cooper about his new audio memoir, among other topics, highlights appear below.
On a story in Who I Really Am in which Alice observes Syd Barrett's odd behavior one morning at breakfast:
"It's so funny, because the things that you remember, like that, was such a vivid memory of mine. And yet, I wouldn't be able to tell you anything else that happened with Pink Floyd the whole time — except for the brownies and the audition at Gazzarri's."
Discussing the impressive amount of legendary figures he's crossed paths with over the years:
"When I achieved that kind of fame, I knew I was going to meet the Beatles and the Stones. And that was always a thrill, of course — they were the ones that got it started. Elvis, Sinatra. But I always wanted to meet Groucho Marx, Errol Flynn, people like that. Because those were the people that I used to watch those movies, and go, 'Wow. Those are the real movie stars.' So, when I got in that position … they put me in the Friars Club. I was the only rock 'n' roller in the Friars Club. I'm sitting there with Jerry Lewis, Jack Benny, and George Burns. And they accepted me, totally, as one of them — which was such a compliment to me."
On his current tour with Ace Frehley:
"Oh, Ace is great. Ace has got a really good band, all Nashville guys, that are all great players. And there is such a big market out there for people that were old-school/diehard KISS fans that absolutely loved them. Especially Ace Frehley being the lead guitar player. There's all those people who have those great memories of early KISS – with Ace and Peter Criss."
Talking about how next year will be the 50th anniversary of the classic anthem School's Out:
"Out of all the Top 40 songs that we had, the only one I was sure of was School's Out. I said, 'If this isn't a hit, I should be selling shoes somewhere — because then I don't know anything about this business. This song has got everything. It's got every piece of what should be a hit.' And it was. Eighteen was a hit … but School's Out was an anthem. And those are the things that last for 50/60 years. It's impossible to close the show with anything except School's Out.
On whether Who I Really Am could be made into a movie:
"I think somebody would have to play me. I keep telling Johnny Depp if he was better looking he could play me. [Laughs] But he would be the kind of person who would do the prosthetics and do a different nose and a whole thing like that. But the thing about the Alice Cooper thing, there were a lot of unique things. Remember that TV show, Vinyl? Mick Jagger produced it. The guy that played me in that [actor Dustin Ingram] happened to live next to my daughter in L.A. And he was like, 'What is it about your dad that I should know, if I'm playing him?' And she said, 'He never swore. And if he was drinking, he never slurred a word. He never stumbled. He wasn't like a 'get drunk' drunk. He was sort of on a golden buzz. A Dean Martin kind of buzz. So, don't stumble and don't act drunk, because Alice was NEVER drunk. And Alice never swore.' Those were the two things that made it more authentic than maybe anything else.
Read more at Heavy Consequence.