AEROSMITH FRONTMAN STEVEN TYLER SAID HE HELPED TO CONVINCE GUNS N' ROSES FRONTMAN AXL ROSE TO REUNITE WITH HIS ORIGINAL BANDMATES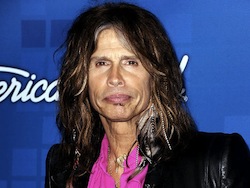 Areosmith frontman Steven Tyler reportedly told Howard Stern that he was one, of several people, who convinced Guns N' Roses frontman, Axl Rose, to reunite with his original bandmates.
"I did meet Axl in a couple of clubs, a year ago, two years ago, three years ago, and I'd bump into him and I'd have that talk," Tyler said on Stern's SiriusXM show. "I said, 'You need to get the f–k back together again soon, because we all miss you.' Same thing someone said to me when [Aerosmith guitarist] Joe [Perry] and I were fighting."
That someone, Tyler explained, was Jon Bon Jovi, who reportedly called the Aerosmith singer while he was in rehab and urged him to reform Aerosmith. Tyler said Bon Jovi told him, "People in the world need you," a message he would eventually relay to Rose.
"There's a place and time, where if you don't [reunite], you're gonna miss it," Tyler said. "And in another four or five years, no one's even gonna know who they were or care if they were on tour." He added, "I have such a huge ego about keeping the fire and the music together, because if people come up to me and say, 'Dude, I got laid to your music,' or a woman comes up and says, 'We got married to your songs' — you had something to do with the fabric of people. Guns N' Roses had something to do with the fabric of humans on this planet."
Tyler said he had also brought up the issue with Slash, and agreed with Stern that the guitarist had been more open to a reunion than the frontman. As to what caused one of the deepest rifts in rock history, Tyler wouldn't divulge any details. "I get the whole thing," he said, noting the feud went much deeper than brotherly betrayal or a clash of egos.
"I can only hope that Axl sees that the greater picture is to not be angry at Duff or Slash, and for Axl to understand that he's the lead singer of a great band," Tyler said. "And the world wants to see Axl with the original band."
additional source: Rolling Stone