ACE FREHLEY'S "ANOMALY" TO BE REISSUED AS "ANOMALY DELUXE" ON SEPTEMBER 8TH, BONUS TRACKS INCLUDED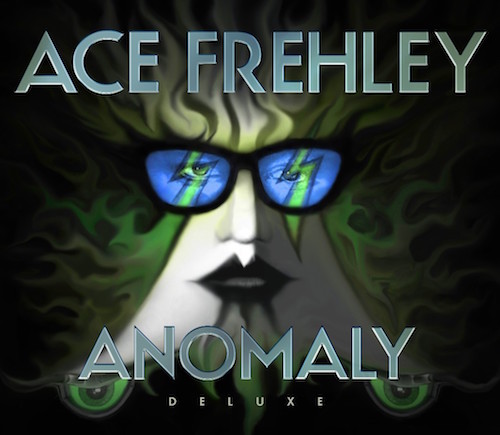 Founding KISS guitarist, solo artist, and 2014 Rock and Roll Hall of Fame inductee Ace Frehley has premiered an all new bonus track titled Hard For Me today. The track will appear on a reissue of his 2009 album Anomaly re-released as Anomaly Deluxe coming out on September 8th through Entertainment One Music. Listen it below.
[Dana's note: I just finished reading Sebastian Bach's autobiography, "18 And Life On Skid Row," and he writes that he helped Frehley write this song, but never received any credit].
"I think this new edition of the album is great – a special treat for the fans," says Frehley. "And, with the bonus tracks, they'll get a little more insight into how the album came together."
Among the new tracks are two previously unreleased demos, Hard for Me, which was later reworked into the album's Foxy and Free, and an early take of Pain in The Neck, different in tempo and arrangement from the final version. Also included is the previously digital-only Anomaly bonus track The Return of Space Bear.
Anomaly Deluxe will also feature enhanced album art, a new live poster, and extensive liner notes by rock writer and Ace Frehley historian, Ron Albanese (including track by track commentary by Frehley). Pre order options can be seen below.
In late 2016 the company entered into an extended agreement with Frehley to release two more studio albums.
Vice President of Sales and Acquisitions at eOne Ken Gullic says, "We're absolutely thrilled to have an artist of Ace's stature on our roster, and to re-release this album on eOne. The Anomaly Deluxe edition completes the trifecta of his comeback trilogy, alongside his first Top 10 album, Space Invader, as well as Origins Vol.1. Ace will follow this with two more studio albums."
At the time of its release, Anomaly lived up to its name. "There was a lot of pressure on me, because I hadn't done an album in 20 years," explains Frehley. "I wasn't sure it wasn't going to be well-received. Luckily, it was!" The record debuted at #27 on the U.S. Billboard chart.
Between live shows in the United States, Frehley is writing for his next album, and reveals that sessions have included working with Gene Simmons for an expected 2018 release.
"I am writing for my next studio album," he begins, "Gene came over my house to write – it went fantastic. In a matter of three hours, he and I came up with two new songs for my (next) record. I'm thrilled." The occasion was momentous for another reason, "it was the first time I have worked with him while I was sober," he reveals, "and it was a pleasure."
In September Frehley and his band will return to Australia and New Zealand for a series of dates with Alice Cooper.
"I have not been to Australia in a while," he begins, "Alice and I have been friends since the '70s, and playing with him is going to be bigger and better."
Speaking of playing, there is a rumor that a certain song will be performed on the tour by Frehley, one that goes back to being a fan favorite Down Under when he first toured there with KISS in 1980. The original "Spaceman" sets the record straight.
"I gotta do Talk to Me – for Australia, I'll do it!"
Anomaly Deluxe track listing:
1. Foxy & Free
2. Outer Space
3. Pain In The Neck
4. Fox On The Run
5. Genghis Khan
6. Too Many Faces
7. Change The World
8. Space Bear (Extended)
9. A Little Below The Angels
10. Sister
11. It's A Great Life
12. Fractured Quantum
13. Hard For Me (Bonus)
14. Pain In The Neck (Bonus – Slower Version)
15. The Return of Space Bear (Bonus)
Order physical copy here and digital copy here.
Upcoming 2017 Dates
US:
Jul 20 Clearwater, FL, Capitol Theatre
Jul 21 Melbourne, FL, King Center of the Performing Arts
Jul 22 Hollywood, FL, Hard Rock Live (Co-headlining with RATT)
Aug 19 Las Vegas, NV, Psycho Fest, Hard Rock Hotel and Casino
Sep 16 New York, NY, B.B. King Blues Club & Grill
Australia and New Zealand 2017 Dates with Alice Cooper
For ticket info, visit AliceCooper.com
Australia:
Oct 17 Perth, Arena
Oct 19 Adelaide, The Barton Theatre
Oct 20 Melbourne, Margaret Court Arena
Oct 21 Sydney, Hordern Pavillion
Oct 23 Canberra, AIS Arena
Oct 24 Newcastle, Entertainment Centre
Oct 25 Brisbane, Convention Centre
New Zealand:
Oct 27 Auckland, The Trusts Arena
Oct 28 Wellington, TSB Bank Arena