ACE FREHLEY DEBUTS "FIRE AND WATER" INTERVIEW FEATURING KISS FRONTMAN PAUL STANLEY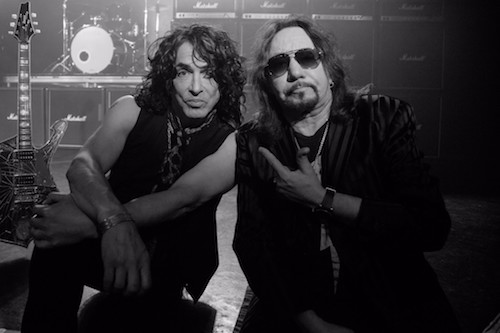 2014 Rock and Roll Hall Of Fame member Ace Frehley today has released, via 95.5 KLOS, a brand new video interview shot on set immediately after the video shoot for his cover of Free's 1970 hit Fire and Water featuring none other than KISS frontman Paul Stanley. The six minute clip is the first time the two have been interviewed on camera in over 15 years. The last time the two sat for an interview was during the KISS farewell tour in 2002 in Australia. Watch it below
The Fire and Water video notches itself into rock and roll history as the first time both Frehley and Stanley appear in a music video since KISS' music video for Psycho Circus released in 1998. It's also the first time in 14 years that the two shared a stage since KISS' appearance at the 2002 Winter Olympic Games in Salt Lake City. Finally, it's the first time Frehley has released a music video since 1989, which was Frehley's cover of Do Ya released by both The Move and ELO.
Last month, Ace cracked the U.S. top 10 with his latest effort Origins: Vol. 1 charting at #1 on the Billboard Hard Music Chart, #3 on the Billboard Rock chart and #6 on the Billboard Current Chart selling more than 16k units in its first week of release according to Nielsen Soundscan. Internationally, the LP most notably came in at #2 on the Sweden Hard Rock Charts and #05 on the England Indie Album Breaker Charts.
Origins: Vol.1 and its success serves as the follow up to Space Invader, which debuted at #9 on the Top 200 Chart in 2014, the same year Ace Frehley was inducted into the Rock and Roll Hall of Fame as an original member of KISS.
Ace spoke with Rolling Stone about the new record, his guest players and recording with Paul after all these years. Rolling Stone writes, Regarding his reunion with Stanley, Frehley shrugs off any residual tension between the two of them. "We've always been friends," he says. "The press seems to amplify negativity. I guess it makes good copy."
Rolling Stone debuted White Room, a few months ago, the classic hit originally performed by Cream. Other guests are none other than Slash trading leads on Thin Lizzy's classic Emerald, Lita Ford singing and playing lead on The Troggs staple Wild Thing, Rob Zombie guitarist John 5 playing guitar alongside Ace as he sings his classic KISS composition Parasite for the very first time, as well as Jimi Hendrix's Spanish Castle Magic," and Pearl Jam's Mike McCready also plays guitar with Ace as he finally sings his KISS Alive! mainstay Cold Gin.
Origins: Vol.1 track list:
1. White Room (Cream)
2. Street Fighting Man (Rolling Stones)
3. Spanish Castle Magic (Jimi Hendrix) *John 5
4. Fire and Water (Free) *Paul Stanley
5. Emerald (Thin Lizzy) *Slash
6. Bring It On Home (Led Zeppelin)
7. Wild Thing (The Troggs) *Lita Ford
8. Parasite *John 5 (KISS)
9. Magic Carpet Ride (Steppenwolf)
10. Cold Gin *Mike McCready (KISS)
11. Till The End Of The Day (Kinks)
12. Rock and Roll Hell (KISS)