AC/DC'S ANGUS YOUNG JOINS GUNS N'ROSES ONSTAGE AT COACHELLA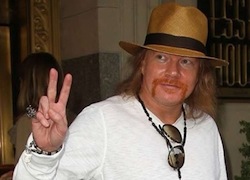 Joe Lynch of Billboard reports:
Saturday night (April 16th) at Coachella was supposed to be all about Guns N' Roses' classic lineup reunion, but thanks to a special appearance from another metal icon, the evening turned into a shockingly great preview of the next chapter of a much older hard rock band.
Just hours after AC/DC confirmed rumors that Axl Rose would serve as singer for the band's remaining tour dates after hearing issues forced vocalist Brian Johnson to take a step back from the band after 36 years, Rose hit the stage with his formerly estranged GnR compatriots Duff McKagan and Slash at Coachella.
Seated on his rock n' roll recovery throne (lent to him by Dave Grohl), Rose apologized to the crowd for not "running around" on stage as per usual. "I do feel bad about sitting here on my ass," Rose said. As a consolation prize, he offered to bring out a special guest to liven things up…the crowd was pleasantly shocked to see AC/DC's Angus Young — in full schoolboy uniform despite his 61 years — take the stage with Guns N' Roses (surprise aside, the drummer's AC/DC t-shirt was a subtle harbinger things to come).
While Rose was forced to remain seated throughout, Young did more than his fair share to make up for Axl's immobility by doing the Chuck Berry duck walk all around the stage while the GnR singer wailed and nailed the band's Whole Lotta Rosie and Riff Raff(both originally Bon Scott vocals). Anyone concerned that Rose isn't up for the towering task of speeding down the Aussie band's never-ending highway to hell need only listen to what happened at Coachella to have their fears assuaged.
Read more at Billboard.