SAXON PREPARE TO DELIVER THEIR LATEST ALBUM SACRIFICE ON FEBRUARY 26TH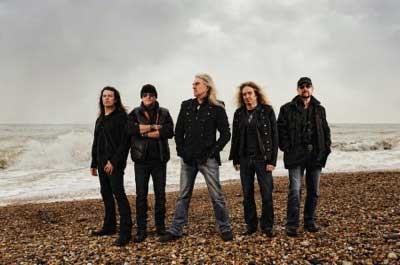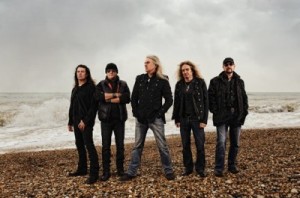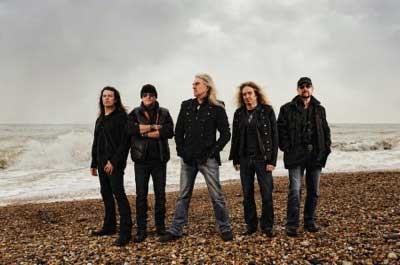 With a storming new stomp in their boots and a renewed, lithe swagger to their legendary sound, Saxon will release Sacrifice, on Tuesday, February 26th, 2013 through UDR. Taking a sharper, re-invigorated approach to the production, on this, their 20th album, Saxon have produced 10 of their strongest, heaviest and most inspired songs for many-a-year, and a more than worthy successor to their last album A Call To Arms.
"Less tricks, more power!" roars frontman and founding father Biff Byford, "my brief to the band was to be raw, be real and not be afraid to look back at the old classic material for inspiration."
The album was recorded at LS Studios in Yorkshire and was produced by Byford with Andy Sneap mixing and engineering by Jacky Lehmann. It fairly bristles with muscular metallic intent, Paul Quinn's and Doug Scarratt's guitar work the best it's ever been, while Biff's vocals sound fresher and livelier. The songwriting too harks back to a classic era in Saxon's history, with the likes of Warriors Of The Road, Wheels Of Terror and Stand Up And Fight evoking the halcyon days of yore with a contemporary twist, the classic Saxon sound absorbing the snarl, ferocity and attitude of contemporary bands (and fans) such as Megadeth, as evidenced by the crunching title cut Sacrifice.
"It's certainly been done from a more early '80s thrashier perspective," explains Biff, "and it's not just guitars bashing away willy-nilly, they've got a fresh drive, purpose and perspective."
Besides the new material, Saxon will also be adding some unique recordings of revisited classic to certain formats of the release, also produced by Byford and mastered by Andy Sneap, including an orchestrated version of Crusader and an acoustic version of Frozen Rainbow.
"From the songs to the production, I wanted to focus on the raw aspects which made us great in the first place," concludes Biff, "And living in that rawness, combined with some great classic Saxon-songwriting, has in my opinion made Saxon fresher than ever."
Sacrifice Confirmed track listing:
1. Procession
2. Sacrifice

3. Made In Belfast

4. Warriors Of The Road

5. Guardians Of The Tomb

6. Stand Up And Fight

7. Walking The Steel

8. Night Of The Wolf

9. Wheels Of Terror

10. Standing In A Queue
Bonus Disc:
1. Crusader (Orchestrated version)
2. Just Let Me Rock (Re-recorded version)

3. Requiem (Acoustic version)

4. Frozen Rainbow (Acoustic version)

05. Forever Free (Re-recorded version)
Formats:
• a limited edition deluxe digibook (including a bonus disc featuring the revisited classic tracks)
• a standard jewel case CD

• a vinyl LP picture disc

• a Direct to Consumer (D2C) fan package (available exclusively for online order from online retailers)

• a digital download