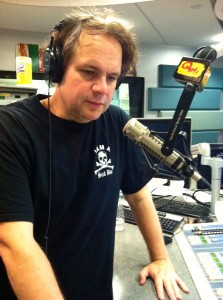 Eddie Trunk was born in New Jersey on August 8th 1964. A lifelong Jersey resident, Trunk was into music at a very early age. It started like any young kid in the early 70s, with the Partridge Family and various top 40 radio hits on the close and play (remember those?). Then in the mid 70s Trunk was introduced by a friend to a band called The Raspberries, and was instantly drawn to the sound of "power pop," a style of music that had the pop hooks, but also heavy crunching guitar riffs. This quickly became his favorite band, and even though the Raspberries only had moderate mass success, Trunk had to have every record and know everything he could about the band. At that point, Eddie was only 11 years old, and was way too young to ever see his new found heroes live (something he finally did on the bands 2005 reunion, not only did he see them, he intro'd them and interviewed them for TV on VH1 Classic).
Then came 1976 and walking home from Jr. High School Trunk made his usual stop at the local record shop he passed every day with a friend. It was there that he was introduced to a record by a band called Kiss. Their brand new album at the time was called Rock & Roll Over. However, since his buddy hadn't heard that one yet, he recommended the previous Kiss LP called Destroyer. Needless to say, like any other kid growing up in the 70s, the Kiss obsession began (and still continues!). From there it led to other hard rock favorites such as Aerosmith, UFO, Black Sabbath, Billy Squier (whom Eddie had seen open for Kiss with his old band Piper at his first concert ever in December of '77 at Madison Square Garden), Rush, Y&T, and countless others. Trunk never cared about trends and if bands were considered "cool," and was often made fun of for the bands and music he liked (there was no band considered more un-cool than Kiss in the very early 80s). As a result, he never spent much time with the "in crowd" in high school, and spent time listening to records and reading about his favorite bands. As a senior in high school (where he never had good grades), Trunk was asked to write a record review section for the high school newspaper. It was there that he could earn school credit, while also doing what he loved, listening to music. A music career was born.
It was also at this time that Eddie's high school was approached by one of the local colleges to have high school students learn radio during the summer. This would not only give the high school students exposure to radio, but also enable the college students to keep the station on-air when they went home for the summer. Trunk volunteered, learning how to cue up records and run a radio board. Quickly, worried about building security, the college canned the idea mid-summer, but it was enough to light the fuse in Ed's mind about a job in radio.
Upon graduation, Eddie attended the local community college for a brief time, but he just wasn't into it. They didn't even have a cool radio station! He then landed a job at a local record store in 1983, right across the street from his favorite local NJ radio station, WDHA-FM. Many of the DJs and station management often came into the record shop, and Trunk got to know many of them. As the resident "Metal Head" of the record store staff, he was always tipping off the station program director about cool hard rock he should be playing. Not knowing how to handle it, the PD resisted. Then a friend told Eddie about a "pirate" radio station, an illegal broadcast that originated from somebody's basement. Trunk visited the station, did a few shows, and took the tapes to DHA. Although the tapes weren't that impressive, his commitment to join DHA was. It was also around the time that heavy metal was about to explode. Quiet Riot, Def Leppard, Metallica and others were set to explode. The offer came to "hang out" at DHA for a little while. Kind of like an unpaid intern that wasn't going to any school!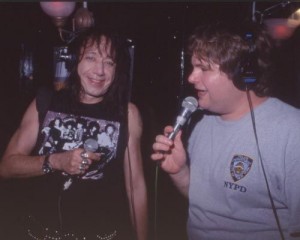 After a year or so working at the record store and radio station, Eddie started to get the itch to be on the air and presented the idea of a hard rock/heavy metal specialty show to DHA management. Nobody was doing this type of specialty show, and the station was hesitant, but finally gave in. From late 1983 through 1994, Trunk became a fixture at WDHA, the station he grew up listening to. Over the 10 years he spent at DHA (all on a part-time basis), he did almost everything you could do in radio, and actually started getting paid! He ended up hosting, producing, and programming the stations hugely popular metal show, in addition to doing regular airshifts, remote broadcasts, interviews, promotions and more.
It was in 1985 that Eddie was first approached by Johnny Z. Johnny owned an import record store called Rock & Roll Heaven, that Eddie often visited for cool new music. Johnny was starting a record label called Megaforce, and had a few bands named Metallica and Anthrax that nobody would play! Johnny new Eddie always embraced new artists and music and asked for his radio support. A year later, Trunk was asked to become one of the first employees of the newly formed Megaforce/Atlantic Records. Eddie went on to work for Megaforce (while still at DHA part time) from 1986-1990, eventually becoming Vice President of the label at 25 years old. He earned executive producer credit on several projects and worked with bands such as Anthrax, Raven, TT Quick, Manowar, Overkill, King's X, Prophet, Icon and Ace Frehley, the same Ace that played on that great record called Destroyer more than 10 years earlier! Eddie had talked Johnny Z (who never was a Kiss fan) into finding Ace and reviving his career. Together they signed Ace to a solo deal, releasing 4 CDs including the best selling Frehley's Comet debut. Ace and Eddie remain close friends to this day, evident by the now legendary appearences he makes on Trunk's radio show on a regular basis. After a four-year run as a record executive, Eddie worked in artist management. He was hired for a brief time as a member of Loud & Proud Management in Brooklyn. Loud & Proud was a company that managed six acts on six different labels and also ran the legendary rock club L'Amour, a place he always hung out at. White Lion was the biggest of the company's artists. Trunk had tried to sign the band to Megaforce a few years earlier and was an early supporter (he was the first to ever play White Lion before they released an album). He remained good friends with the members of the band, and was awarded his first gold record for the blockbuster sales of Pride live on stage in front of a packed house at L'Amour by Vito, Mike, Greg, and James. Loud & Proud also handled Tyketto, Overkill (who Trunk worked with at Megaforce as well), Tora Tora, Mitch Malloy, and a young blues guitarist named Eric Gales.
After Loud & Proud dissolved as an early victim of the coming music changes, Trunk recommitted himself to more work in radio. In 1994 the usually lame New York City radio dial was given a shot of excitement when a station called "Pure Rock Q104.3" signed on by playing AC/DC A-Z. A full-time hard rock format in NYC? Eddie couldn't believe it! After approaching the station several times, he was hired as a DJ and found himself on the air in NYC! It started with some weekend work and led to a full-time schedule. Eddie had attempted to talk station management into letting him do a metal show similar to what he had created at DHA, but rumors of a station sale were already circulating. A year after being hired, Pure Rock Q104.3 was gone, and replaced by the new Classic Q104.3. Eddie was doing 7-midnight on Sunday nights and hosted the last shift of that now legendary Pure Rock format radio station. For that shift he ditched the playlist and played what the people wanted and the phones went nuts. Unfortunately, people had no idea that in a matter of hours, Pure Rock would be gone, and so it appeared would Trunk's brief year in NYC radio. By doing that last shift, Eddie impressed the new incoming owners, and was one of only two members of the old airstaff retained. Needing a job, Trunk found himself going from Metallica and AC/DC one day, to CCR and Moody Blues the next. He spent two years working full time at the Classic Rock version of Q104.3, surviving several more management/ownership changes in the process and for a few months hosting full-time morning drive, the number one time slot in the number one market!
This brings us to late 1997. The legendary rock station WNEW-FM was rumored to be moving away from the classic rock format and into a more rocking direction with some new air talent. Eddie was one of the first hired under new management because of his varied experience and willingness to be a team player. He initially joined the station as an engineer and board operator, with the promise of on-air duties once the stations new direction and staff were solidified. He began his on air duties doing weekend shifts, one of which was Saturday nights 10-2. After doing the straight programmed music for about six months he began to dream of doing a similar program to his old DHA show in the country's biggest market with 50,000 watts of power! He also recognized that NYC had no outlet for hard rock and metal and took the concept to his PD at the time. After much resistance, Eddie got his way and Saturday Night Rocks was born. Initially, the boss wanted to call the show "The Saturday Night Rock Party," but Trunk cringed, thinking it would conjure up the idea of pop music. Saturday Night Rocks was the compromise. Another compromise was that station management had to be in charge of selecting most of the music, something Eddie protested greatly, but agreed with just to get the show on the air. After about two weeks, all of the programming, producing, and hosting of the show were in the hands of Trunk. After WNEW made a drastic flip to a talk format, Saturday Night Rocks was the only rock based music show retained. It was the premiere music show in New York City, New Jersey, Long Island and Connecticut. In a short period of time the show dominated the ratings and drew raves from special guests and celebrities in the nation's number one market. Everyone from Sopranos star Steven Van Zant to baseball star Mike Piazza all paid a visit to the show as a fan and thanked Trunk for providing a refreshing, honest, and unique style of radio mixing music and talk and interview. The list of artists who have echoed these similar words is too long to list here.
In September of 2001, WNEW added a second night of Eddie Trunk due to the overwhelming response to his Saturday show and Friday Night Rocks was born. Eddie now rocked the NYC tri-state area Friday's from 11-2 and Saturday's from 10-2. Baseball star and future hall of famer Mike Piazza is a regular co-host of the shows, and contributes often. It was also 2001 that Eddie played a key role as a contributor to VH1's Top 40 Hairband Countdown, as a guest on the popular VH1 show for four hours. In November of 2001, Trunk organized and produced the NY Steel benefit concert for Police and Firefighters in the wake of September 11th. It was Eddie that talked the original Twisted Sister into reuniting for the first time in fourteen years for the event (a reunion they are still on), and also added long time friends Ace Frehley, Overkill, Anthrax, Sebastian Bach and Mike Piazza to the sold out bill. The now legendary event raised close to $100,000 for the charity and showed heavy metal in a positive light. It remains on of his single proudest accomplishments. In March of 2002, Eddie signed a deal with NYC based Excelsior Radio Networks to syndicate a new show called Rock The Nation on a national level.
In mid 2002, Eddie's national show and his local NYC show merged, creating one program, Eddie Trunk Rocks, that is now heard in the countries number one market, in addition to other cities and online outlets. The first ever internet home for the show was secured at this time as well, with Eddie airing twice every week on the legendary www.KNAC.com. Due to a station format change at WNEW, Eddie's show was cancelled in NYC in January of 2003 with audience and ratings at their peak. The show was picked up by NYC Classic Rock station Q104.3 (WAXQ) the following month, where Eddie had spent time from 1994-98. Eddie's show was once again heard in the New York City tri-state area, and currently airs on Q104.3 Friday nights 11PM-2AM. Syndication is handled by Radio KG and includes other great stations including WAAF in Boston!
In July of 2001, Eddie signed his first TV contract with VH1 Classic to serve as a full time host & VJ for the channel. After a lengthy audition process it was determined he would serve as the featured male host and interviewer for VH1's new sister channel. Trunk spent five years as the main host for VH1 Classic, interviewing a wide diverse group of artists including John Mellencamp, Rush, Carly Simon at her home, Ringo Starr, Robert Plant in the UK twice, and countless more. He also hosted the channels heavy metal and alternative rock hours. This was the dream job for the lifelong music junkie! In late 2005 VH1 decided to end studio operations for VH1 Classic and no longer would produce new original programs. In one day many were dismissed from their positions at all levels of VH1 Classic. Trunk continued to appear in repeats and in a few new shows. One of his last interviews at the time was with Kiss in LA, so it was a great way to go out from round one in television!
In 2004 Eddie Trunk signed representation with the prestigious agency Don Buchwald & Associates for TV and Radio commercial representation, becoming the voice of ads for LaRosa's Pizza, Rolaids, Verizon, Arbys and more.
In July of 2004, Eddie re-launched Saturday Night Rocks due to popular demand on XM Satellite Radio. XM is the nation's leading provider of Satellite Radio. His show aired nationwide every Saturday night 8-Midnight EST on XM channel 41 Da Boneyard. Eddie departed XM Satellite Radio in August 2005 due to philosophical differences with the then program director.
In 2006 Eddie was hired by VH1 to serve in a consulting producer capacity for the first ever VH1 Rock Honors show in Las Vegas. The program honored Kiss, Queen, Judas Priest and Def Leppard. Eddie also served as the host for a nationally syndicated radio special that tied in with the TV program and worked on many areas of the original Rock Honors show, including the assembly and direction of the Kiss tribute band that night.
In May of 2006, radio history was made as Eddie Trunk scored the first real interview with Axl Rose in nearly 15 years. Rose walked into Trunk's radio studio unexpectedly and hung out on the air with him and his guests for over two hours making world news. Trunk became the first in over a decade to interview Axl for TV when the reclusive star appeared on That Metal Show in 2011.
In December of 2006, Trunk returned to XM satellite radio with an all new show "Eddie Trunk Live," which airs every Monday from 6PM-10PM EST, 3-7 Pacific. As a result of the merger with Sirius in 2008, Eddie Trunk Live is now available to both Sirius and XM subscribers as part of the basic package. Eddie can be heard on Hair Nation channel 39, which is branded "Trunk Nation" during the hours his show airs. It is one of the few live music based shows on the platform and is a hybrid of music and talk / interview.
In 2007 Eddie signed on to a new TV gig as a host and interviewer for the MSG Network in NYC. MSG is the TV home of Madison Square Garden and the NY Knicks and NY Rangers and is a basic channel in over 12 million homes in the tri-state. Eddie served as an interviewer and host for music and entertainment features inside the show "MSG, NY" and also serves as host of the MSG Concert Series. Interviews have included Chris Cornell, Julliet Lewis, Meat Loaf, Peter Criss, Jesse Malin, David Coverdale, Ace Frehley, 5 Finger Death Punch, Seether, OAR, Dispatch and many more.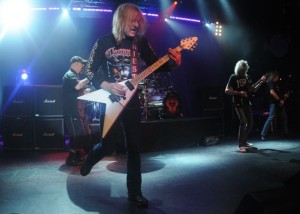 On August 4th 2008 Eddie Trunk was honored by legendary metal band Judas Priest for 25 years in hard rock and metal radio. Priest played a private show in his honor that was attended by invited guests and rock royalty to say thanks to the man that has supported them for so long. It took place at the Hard Rock Cafe in Times Square and is now legend for the lucky that attended and saw Priest with 500 others that night! The evening also featured a roast video that can be viewed on this site and many special guests from the world of rock and comedy. All friends of Eddie who assembled on the red carpet that night to salute his support and accomplishments in music for a quarter century.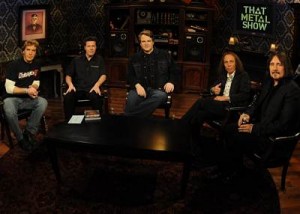 In October 2008 Eddie Trunk returned to VH1 Classic as host of a brand new show he developed and co-produces called "That Metal Show". He is joined by co-hosts, comics, and good friends Jim Florentine and Don Jamieson in a weekly hour talk show that deals with all things hard rock and metal and features guests such as Rush, AC/DC, Ace Frehley, Mike Piazza, Lita Ford, Twisted Sister, Yngwie Malmsteen, Mike Portnoy, Judas Priest, Alice Cooper, Rob Zombie, Zakk Wylde, Heaven & Hell and many more. The show began airing 11/15/08 at 11PM on VH1 Classic with a new episode every Saturday night. To date the show has completed eleven seasons and various specials. That Metal Show is the longest running program in VH1 history, has over 100 episodes recorded, and is seen around the globe.
Eddie was honored to serve as the MC for Dio's Memorial service in Los Angeles My 30th 2010. In April of 2011. He continues to be active in helping to support and raise funds for the Dio Cancer Fund each year. In 2011 Eddie earned the first ever "Long Live Rock & Roll" award at the Playboy Mansion in Los Angeles for his work and support of the Dio Cancer Fund.
Eddie released his first ever book titled Eddie Trunk's Essential Hard Rock & Heavy Metal through Abrams Image in 2011. A sequel is scheduled for release in 2013.
Eddie Trunk continues his crusade to keep radio fresh, content driven, live and exciting and play the music he loves. He is currently heard on two national radio shows and seen on VH1 Classic and various other outlets. He has also appeared on MTV several times and on Fox News Channel, worked as a freelance music journalist, boxing ring announcer, and MC for various concerts and rock events around the USA. He is the host of America's biggest rock festival Rocklahoma in Pryor OK every July and also provided live TV coverage from that event for AXS TV in 2012. His other interests include movies and sports (NY Giants, Nets, Rangers, & Mets). He continues to live in NJ with his wife Jen and two children Raymond and Elizabeth, and three cats.