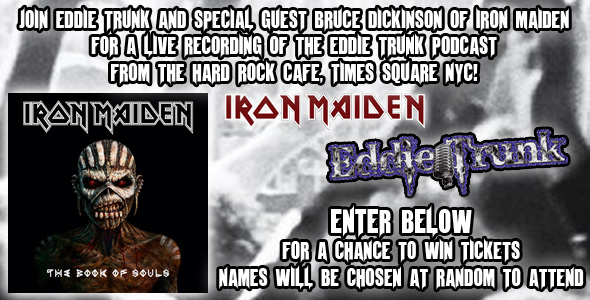 IRON MAIDEN
THE BOOK OF SOULS
ALBUM LAUNCH SIGNUP
September 1st 2015 6:30PM
Join Eddie Trunk and very special guest Bruce Dickinson of Iron Maiden for a live recording of The Eddie Trunk Podcast from the Hard Rock Café, Times Square NYC!
This in depth conversation will cover the incredible history of Iron Maiden as well as the brand new album Book Of Souls and include questions from the live audience.
Tickets to attend are FREE, but you must win to get in!
Apply for tickets by entering your information below. Please only enter if you are or will be in the NYC area September 1st to attend this event. All winners get one guest. Transportation is not included. You will get a confirmation email with instructions if you are a winner. All winners will be notified by Thursday August 27th via email. Good luck and hope you can join us for this very special event celebrating the new Iron Maiden album with Bruce Dickinson!
"The Book Of Souls" is being released September 4, 2015, you can pre-order here
All Winners have Been Notified Via Email