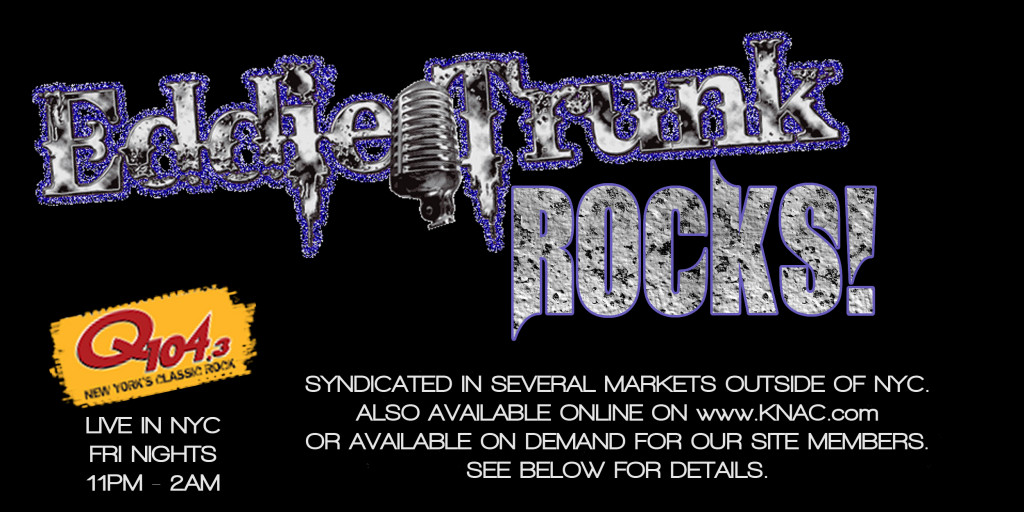 This show is called "Friday Night Rocks" in NYC and airs live on Q104.3 (NYC, NJ, LI, CT) from 11PM-2AM every Friday. This program also runs on affiliate stations and worldwide on www.KNAC.com on tape delay.  A full listing of places and ways to hear this show is available below. It is available nationwide live or on tape delay through KGB Radio Networks and also known as "Eddie Trunk Rocks". For syndication info contact me through this site, thanks. You can hear this show LIVE ONLINE anywhere in the world by going to www.q1043.com and clicking on "Listen Live" from 11PM-2AM Friday nights NYC time. All Access Members of this site can also hear this show On Demand exclusively on this site. See the store for info on AA Membership.
On Air Call In Line – 888-872-1043 for Friday nights live Q104 broadcast ONLY!
For info on guests and more for this show please see the Trunk Report on this site.
For last minute info and updates follow me on Twitter at therealedtrunk.
All shows are live from Q104.3 NYC and online at www.q1043.com 11PM-2AM EST on Friday nights. All shows replay online worldwide on www.KNAC.com the following weekend Saturday and Monday 10A-1P EST and on affiliate stations listed under "Syndication" at the respective days and times. THIS SHOW NOW AVAILABLE ON DEMAND ANYTIME! JUST BECOME AN ALL ACCESS MEMBER OF THE SITE.
FOR A FULL LIST OF  STATIONS PLEASE VISIT OUR SYNDICATION PAGE: